How to prepare Pineapple Rasam Recipe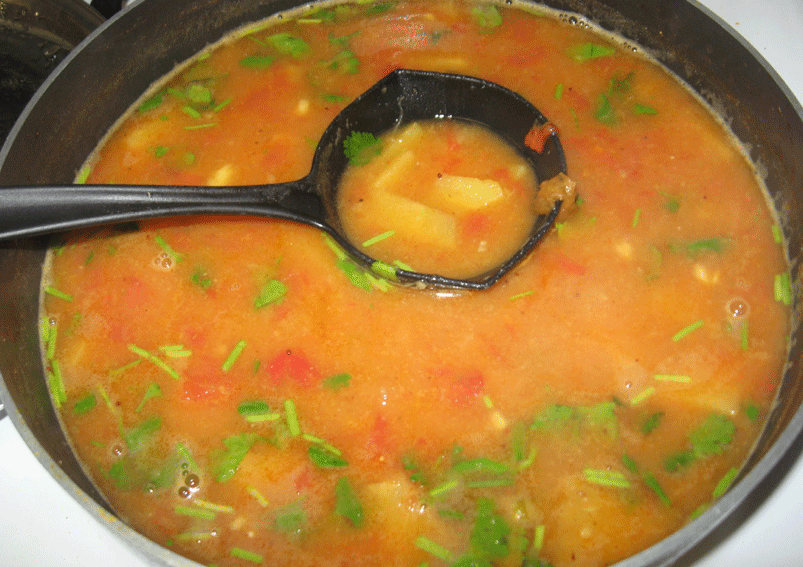 The Pineapple rasam is a nice variety of rasam. It is a combination of sweet, sour and spicy. It is the most comforting food and a very popular south Indian dish. The dish is like 'Tasty Bhi Healthy Bhi' and unique by it's flavor.
Ingredients
1Tomato
¼ cupTur dal (cooked)
1 slittedGreen chili
1 teaspoonRasam powder
A pinchTurmeric powder
A pinchHing (asafoetida)
1/3 cupPineapple (small pieces)
¼ cupPineapple juice(fresh)
For theseasoning
1 teaspoonGhee(butter)
½ teaspoonMustard seeds
½ teaspoonCumin seeds
LittleCurry leaves
Directions
Take ¾ cup of water in a pan and add hopped tomatoes, turmeric powder, rasam powder, salt needed, slitted green chilli, pineapple pieces, curry leaves and hing in the water.
Now, put the pan on flame and boil it for a few minutes.
Put the cooked dal, pineapple juice and 3/4-1 cup of water in the mixture. When you see froth forming on the top, off the flame and remove the pan.
Now, heat a teaspoon ghee, put the cumin and mustard seeds and then mix it in then, put it over rasam.
Garnish it with coriander leaves and serve hot with rice and curries.
You can also use sambhar powder in place of rasam powder. You can also have pineapple rasam, it as a soup.
Also see: South Indian Tasty Mango Rasam Recipe
-Nandini Chauhan
This Recipe Rate :
(0) Reviews