Paneer Do Pyaza Recipe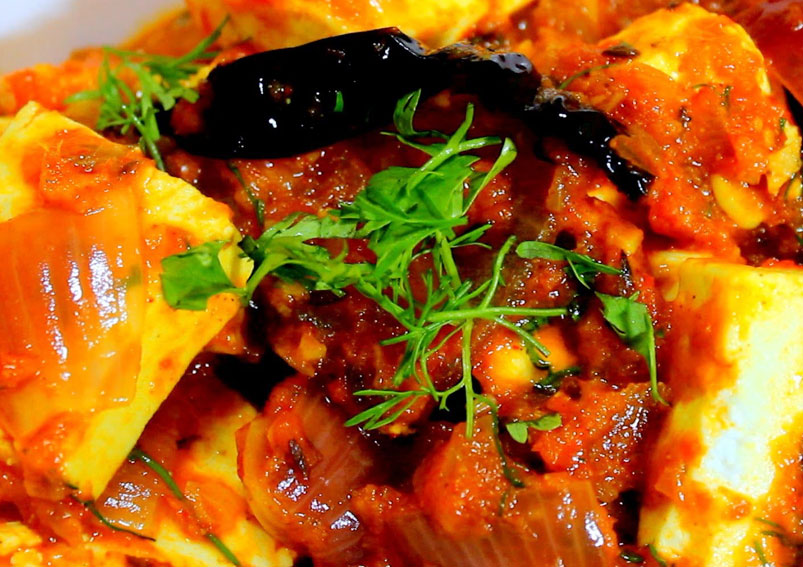 Making paneer do pyaza is easy if you have all the spices with you. Here is the easy recipe. You can definitely enjoy it with your family.
Ingredients
500 gramsPaneer (cottage cheese)
4 mediumOnions
4 tablespoonsOil
1 tablespoonCumin seeds
5Green cardamoms crushed
1 tablespoonGarlic paste
1 tablespoonGinger paste
2 mediumTomatoes chopped
1/4 cupTomato puree
1/2 teaspoonTurmeric powder
2 tablespoonsCoriander powder
1 teaspoonCumin seeds
1 teaspoonRed chilli powder
1/4 cupFresh cream
Saltto taste
1 teaspoonGaram masala powder
1/2 cupFried onions
1 inch pieceGinger,cut into juliennes
1/4 cupFresh coriander leaves chopped
Directions
A non stick pan has to be heated with 2-3 table spoons of oil.
Onions have to be halved. Cut it further to open the layers of the onion.
Heat the oil and add the big pieces of onion into it.
Add all the spices like cumin seeds, green cardamoms and 2 sliced onions (Chopped) to the oil in the deep pan.
Saute those onions till they turn golden. Side by side cut the paneer pieces into triangle shapes.
Now add ginger garlic paste to the onion that is being fried. Sauté it with a little water and mix well.
Now add few tomato pieces or make tomato puree and mix it with the onions. Now, add turmeric powder, coriander powder, red chili and oil so it is deep fried.
Add the paneer which you cut into triangles to the masala and mix well. Now, you can either add cream or milk to the mixture for the smooth mixture. Add salt and mix.
Finally add garam masala powder and the big onions that you had fried.
Add coriander leaves. Mix everything together lightly. Serve hot. Your paneer do pyaza is ready!
Also know – 5 healthy reasons to add paneer to your diet
This Recipe Rate :
(0) Reviews