Kashmiri Rajma Masala Curry Recipe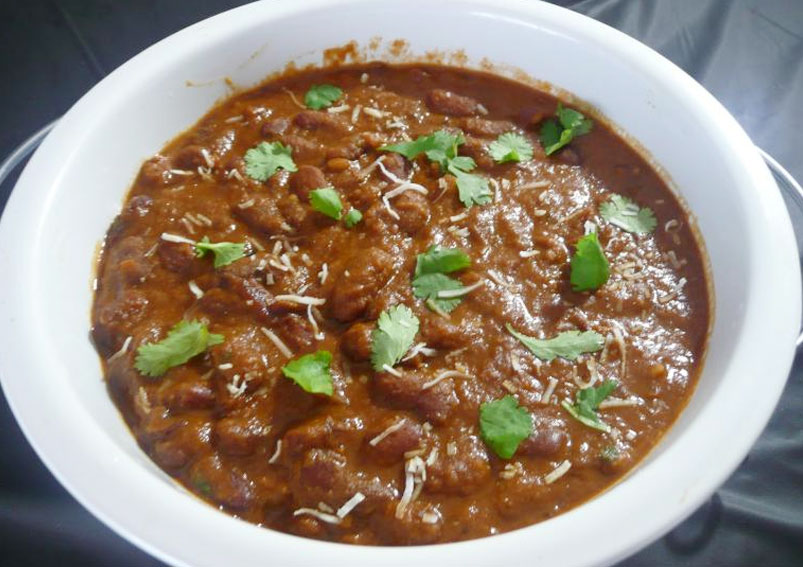 Rajma is a popular dish in Kashmir. There are two varieties of Rajma, one is the red variety from Kashmir and the other rajma is from Punjab. The red Rajma is used in making Kashmiri rajma masala curry.
Ingredients
1 1/2 cupsRajma (kidney beans)
1 tspSoda bicarb
1/2 cupGhee (clarified butter)
1/8 tspHeeng (asafoetida)
1 tspZeera (cumin seeds)
1 tspSonth (dried ginger powder)
1/2 cupDahi (yogurt)
1 tspKashmiri garam masala
1 tspGinger paste
as per tasteSalt
1 tspChilli powder
2 tspDhania (coriander) powder
1/2 cupChopped coriander leaves for garnish
Directions
Soak rajma and soda in water overnight.
Dry rajma and cook in a pressure cooker with fresh water for 15min until it get soft.
After it become soft, Drain rajma and and keep water separately
In a pan, heat ghee and add heeng and jeera.
Add sonth, dahi and ginger.
Stir vigorously or else the dahi will curdle.
Add salt, chilli powder, green chilli and rajma.
Saute for a minute.
Take the drained water of the cooked rajma in 1 cup and add it to the rajma.
Cook for 8-10 minutes, add garam masala and dhania powder.
Simmer another minute.
Now, it is ready to serve.
Finally, garnish with the chopped coriander leaves.
Kashmiri Rajma recipe is a spicy and delicious curry that can be served for lunch as well as dinner. Rajma is full of magnesium, potassium, iron and protein. Hence, this is a good meat substitute for vegetarians.
For More - Curry Recipes
- Mayuka
This Recipe Rate :
(0) Reviews