Delicious Mushroom Fried Rice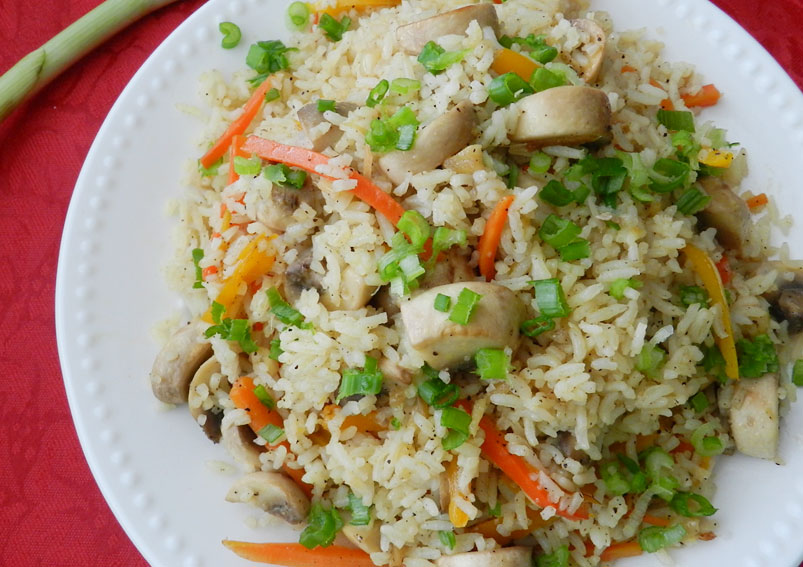 Mushroom Fried Rice is a very tasty and healthy dish seasoned with mushroom, mixed vegetables and Indian spices.
As this dish is a feast to the eyes and stomach, people are sure to be tempted to taste Mushroom fried rice. It is a perfect main dish course for vegetarians.
Here goes the easy way to follow the recipe.
Ingredients
200 gButton mushrooms
1Onion large
1 cupChopped carrot, beans
1 ½ cupBasmati rice
1Cinnamon
1 or 2Cardamom
3Cloves
2 tbspOil / ghee
½ cupPeas (cooked )
1 tbspSoya sauce
1 tbspChilly sauce
Saltto taste
½ cupSpring onions
1/2 cupCoriander leaves, chopped
Directions
Wash and cut the mushrooms in medium size and keep aside.
Finely chop onion, carrot and beans in a small size.
Wash and Pressure cook basmati rice.
Boil mushrooms separately till it is gets tender.
Roast the cinnamon, cardamom , cloves and powder it.
Heat oil/ghee in a pan, fry onions till it get golden color.
Add chopped vegetables, salt and 1/2 cup of water.
Cover with a lid and simmer on low flame till the vegetables are soft.
Now add cooked peas and mix well.
Add soya sauce, chilly sauce, ground masala powder and mix well.
Cook for few more minutes.
Now add cooked basmati rice in the pan.
Take care not to break the rice.
Finally, garnish with chopped spring onions and coriander leaves. Serve hot enjoy with spicy chicken / any veg curry and raitha.
Check for more lunch box recipes.
- Mayuka
This Recipe Rate :
(0) Reviews