Quick and Healthy Vegetable Jowar Upma Recipe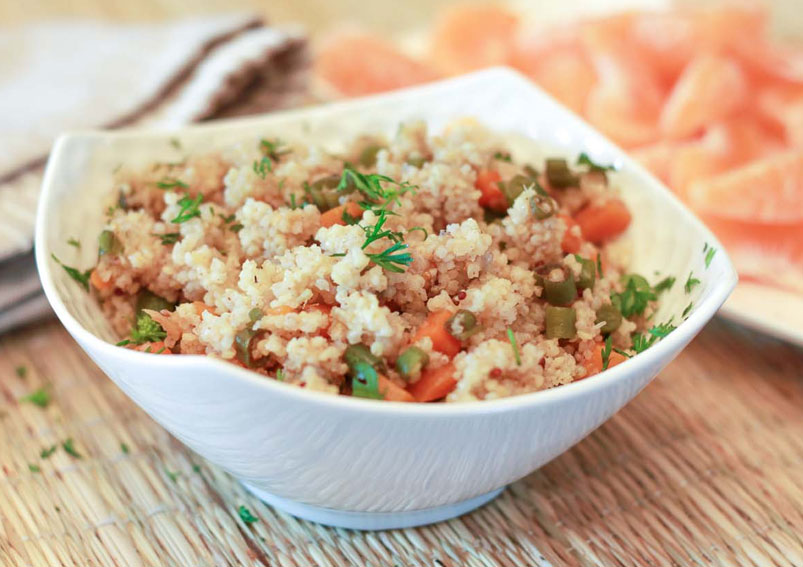 Ready in a jiffy, Jowar Upma is a healthy snack that you can whip up for breakfast, lunch, dinner or just any time of the day. It is a much healthier alternative to the traditional rava upma. The vegetables add taste, crunch and nutrient quotient to the recipe.
Ingredients
2 cup

Jowar

1/2 cupOnion, finely chopped
1Carrot, finely chopped
1/4 cupSweet corn,(optional)
1/4 cupGreen peas
2 tablespoonsRoasted Peanuts
1 inchGinger, grated
2cloves Garlic, crushed
2Green Chilies, slit or chopped
2 teaspoonsLemon juice
1/2 teaspoonTurmeric powder (Haldi)
Saltas per taste
2 teaspoonsBlack pepper powder
2 tablespoonsOlive Oil
4 cupsVegetable stock, or water
Coriander leaves(Dhania), small bunch, finely chopped
Directions
Wash and soak Jowar pearls overnight or for at least 6 - 7 hours in water, jowar is a millet that takes a long time to cook, so it is important to soak it.
Once the Jowar is soaked, drain the excess water.
Place the Jowar into the pressure cooker along with 4 cups of vegetable stock (or water) and salt.
Cover the pressure cooker and 15 minutes and in a low flame cook for 10 minutes and turn off the heat.
After 10 minutes turn off the heat and allow the pressure to release naturally.
The Jowar will continue to cook in the pressure that exists in the cooker.
Open the lid of the pressure cooker and check whether jowar is cooked
Jowar pearls have chewy texture in comparison to other grains, so you will notice them begin hard, If you like it to be softer, you will need to add a little more water and allow it to cook through for some more time.
If you notice that it has cooked well, but there is some excess water, drain the excess water.
Steam the vegetables and keep them ready.
Heat oil in a saucepan over medium heat and saute the chopped onion, garlic and ginger for a couple of minutes until it is soft.
Once the onion turns translucent, add the peanuts and saute for another couple of minutes.
Add the steamed vegetables, turmeric powder, Jowar, salt and black pepper.
Give it a taste and adjust the seasonings to suit your taste.
Cover the pan with a tight-fitting lid, reduce the heat to low and let Jowar Upma cook for about 5 minutes.
Turn off the heat and drizzle lemon juice over upma.
Garnish with chopped coriander leaves and serve hot.
Serve the Jowar Upma along with Coconut Chutney for a wholesome breakfast or even for dinner.
Also, Read Healthy Ragi Malt Preparation
Meghna Nath
This Recipe Rate :
(0) Reviews