Easy Strawberry Cake Recipe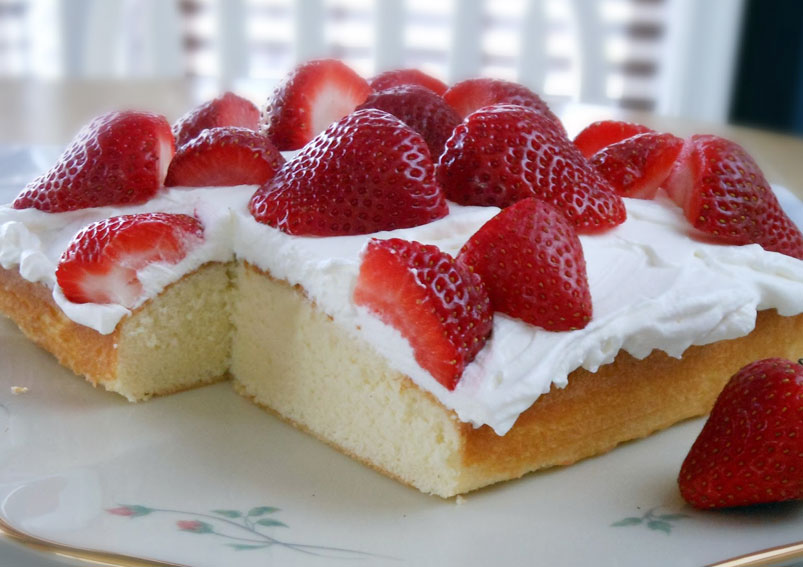 This Strawberry Cake is very easy to prepare, taste delicious, and needs very few ingredients. This yummy cake has a sweet flavor of strawberry. You can make this cake anytime. Let's try this recipe.
Ingredients
2 cupsplain flour
400 mlcondensed milk
1-1/2 tspbaking powder
1/4 tspbaking soda
1 cupmilk powder
2 tspsemolina (rava)
a pinchcardamom (elaichi) powder
3 to 4drops

strawberry

essence
1/2 cupstrawberry crush
200 mlsoda
1/2 cupbutter
Directions
In a bowl add plain flour, baking powder, baking soda, milk powder, semolina and cardamom powder and sieve well.
Put the melted butter in a deep pan and add the condensed milk and whisk well till smooth and add strawberry essence and crush and beat it again.
Add the plain mixture to butter mixture and beat it well till the batter is smooth and thin.
Pour the batter into a greased baking tin and bake in a pre-heated oven at 200 degree Celsius for 30-40 minutes or till the cake is cooked.
Cool on a wire rack and cut into slices and serve.
Check More Cake Recipes
Meghna Nath
This Recipe Rate :
(0) Reviews