Nargisi Egg Kofta Recipe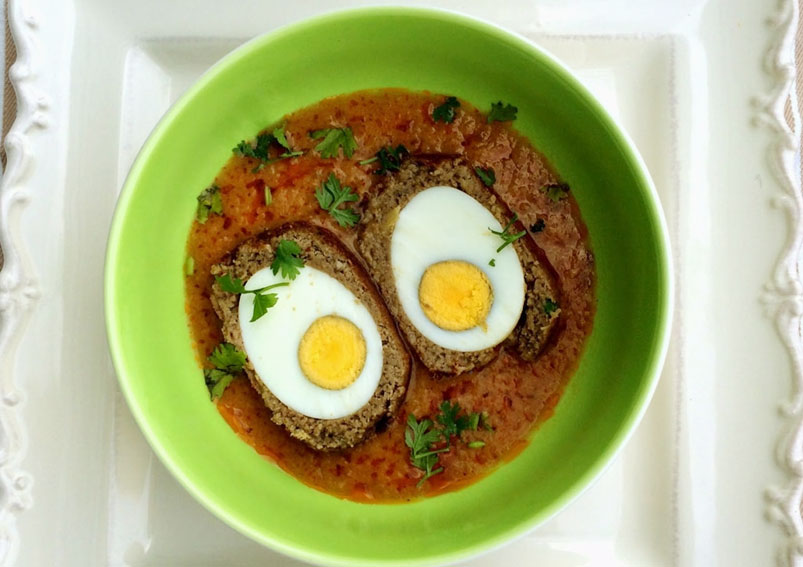 Add Nargisi Kofta in your party menu to entice your guests. The exotic egg koftas are simmered in a rich gravy. Enjoy this with parathas. Let's follow this recipe.
Ingredients
Egg Kofta
6eggs
1/2 kgKeema (minced meat)
1medium onion
1/2 cupchickpea flour (besan)
1 tbspginger garlic paste
1 tspred chili powder (or as per your taste)
1/2 tspcumin seeds
1 tspcoriander seeds
1egg
Saltto taste
oilto fry
Kofta Curry
1onion
1 tbspginger garlic paste
1 tbspcoriander seeds
1 tbspred chili powder
1 tspturmeric powder
1 tspcumin seeds
1 tsppeppercorns
2 tsppoppy seeds
6-7almonds
1/2 cupyogurt
Corianderto garnish
Saltto taste
Directions
Soak almonds in warm water and put in microwave for 2 minutes and peel off the skin.
Soak poppy seeds for 30 minutes and make a paste of peeled almonds and poppy seeds.
Hard boil the eggs in enough water and once done, remove the skin and keep it aside.
Dry roast cumin, coriander seeds along with peppercorns till they start releasing aroma and coarsely crush these in mortar and pestle.
Dry roast chickpea flour or besan till it turns golden in color and starts releasing aroma and make a paste of ginger and garlic.
For Egg Kofta
In the minced meat, add ginger garlic paste, chili powder, salt, 1 tablespoon of crushed cumin, coriander, and peppercorns, roasted chickpea flour (besan), sliced onions and egg.
Mix all this together in a blender so that you have finely minced meat.
Grease your palms with little water and take minced meat in your palm and coat egg with meat.
Meat should be slightly more than a size of the egg so that you get a good coating of meat around the eggs.
Heat oil in a deep pan and when oil is hot, transfer eggs to it and fry till golden brown. make sure eggs are not over fried.
In case you want to bake these eggs, keep meat coated eggs in greased baking tray.
Transfer the baking tray in preheated oven at 200'C around 400 F for 30-35 minutes or till cooked.
For The Curry
Heat oil in a pan or kadhai and add thinly sliced onion and fry till golden brown in color and take them out on a paper towel..
Make a paste of fried onions with yogurt in a mixer.
In the pan with oil add the paste of almonds and poppy seeds and cook for a minute.
Add ginger garlic paste, red chili powder, and turmeric powder, and cook it.
Once masala starts to stick to the pan, add onion and yogurt and cook for 2-3 minutes on a low flame.
Add water to the masala mixture to make curry and adjust the quantity of water to make the gravy consistency of your choice.
Add kofta in curry and let it simmer for 2-3 minutes and roll gently without breaking the koftas.
If you like, you can keep koftas ready and add in curry just when serving.
Garnish with chopped coriander.
Also, Read Egg Masala Recipe
Meghna Nath
This Recipe Rate :
(1) Reviews
Krath

Very good incredients