How to Make Tandoori Mushrooms Recipe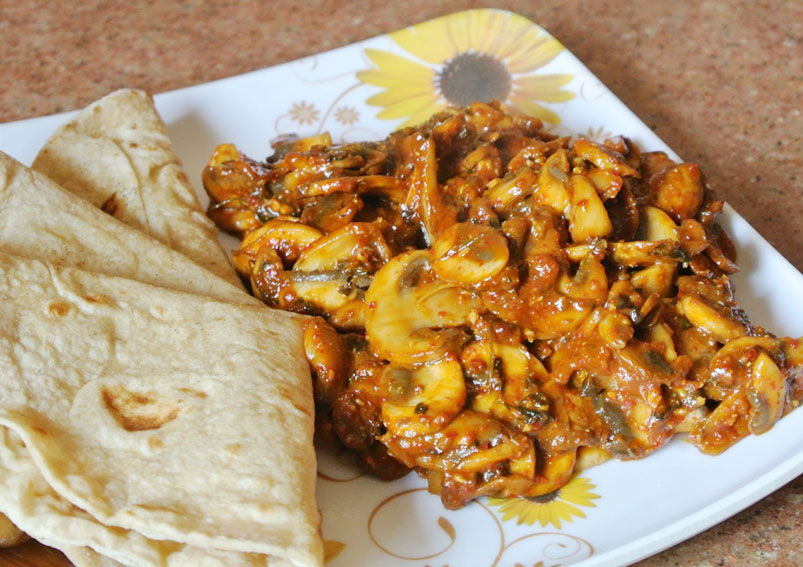 Unbelievably this delicious starter is made without oil. Low-Calories protein-rich mushrooms are cooked in lip smacking tandoori style. The velvety mushrooms are sure to become the star of your party with their unbeatable texture and flavor.
Ingredients
300 gmMushrooms (khumbh), cut into halves
1/2 tspCornflour
1/2 cupLow fat milk
1/2 tspDried fenugreek leaves (kasoori methi)
1/4 cupLow fat curd (dahi),beaten
Saltto taste
To Be Ground Into A Smooth Paste
1 tablespoonWhole Dry Kashmiri Red Chilies
1 teaspoonlarge Sized Coves of Garlic (lehsun)
1 teaspoonPiece of Ginger (adrak)
SaltCoriander-Cumin seeds (dhania-jeera) powder
Saltto taste
Directions
Blend dry Kashmiri red chilies, garlic, ginger, coriander-cumin seeds and salt into a smooth paste.
Wash the mushrooms thoroughly and drain and keep it aside.
In a bowl dissolve cornflour and milk and keep it aside.
Heat a non-stick pan on a medium flame and when hot, add the blended paste and dried fenugreek leaves and stir continuously and cook for 1 minute.
Sprinkle little water if the mixture becomes too dry.
Add mushrooms, cornflour-milk mixture, curds and salt and saute for 4 to 5 minutes or till the mixture coats the mushrooms well.
Serve it hot.
NNutrient values per serving
Energy 33 k cal
Protein2.9 gm
Carbohydrate 5.5 gm
Invisible Fat 0.4 gm
Fibre 1.0 gm
Calcium 60.1 mg
Folic Acid 15.9 mcg
Check More Low Calories Recipes
Meghna Nath
This Recipe Rate :
(0) Reviews