Tasty and Easy Rose Cookies Recipe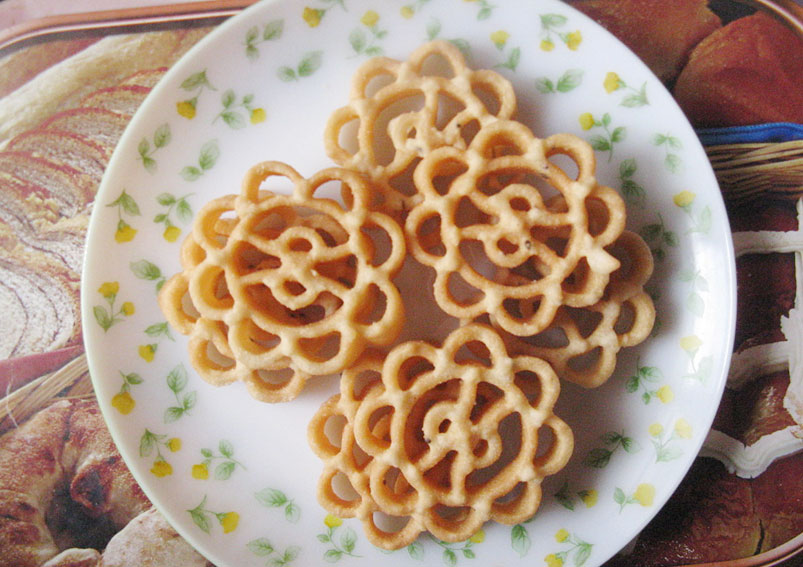 Rose Cookies are traditional sweet delicacy made during a special occasion. To make these cookies you need rose cookie mold, with little tips, tricks and practice, it is very simple to make. Make and enjoy this tasty snack with your loved ones.
Ingredients
1 cupPlain Flour (maida)
4 tspCornflour
3 tbspPowdered Sugar
1/2 tspCinnamon (dalchini) powder
1/4 tspBaking Soda
oilfor deep frying
1 tbspPowdered Sugar for Dusting
Directions
In a bowl add plain flour, cornflour, sugar, cinnamon powder, and baking soda and mix it well.
Add approx. 3/4 cup of water and whisk it well to make a smooth batter of coating consistency.
Heat the oil in a deep non-stick pan very well and dip the rose cookie mold in the hot oil and allow it to heat up for 2 to 3 minutes.
Remove the rose cookie mold from the oil and dip half mold into the batter and take care that the mold is evenly coated with the batter.
Dip the mold again in the hot oil and as the cookie cooks, loosen the cookies slightly with the help of a fork and deep-fry till they turn golden brown in color from all the sides.
Drain on an absorbent paper.
Just before serving, dust the cookies with the powdered sugar evenly and serve it.
Also, Read Chocolate Mint flavor Milkshake Recipe
Meghna Nath
This Recipe Rate :
(0) Reviews