Spicy Vegetable Satay Recipe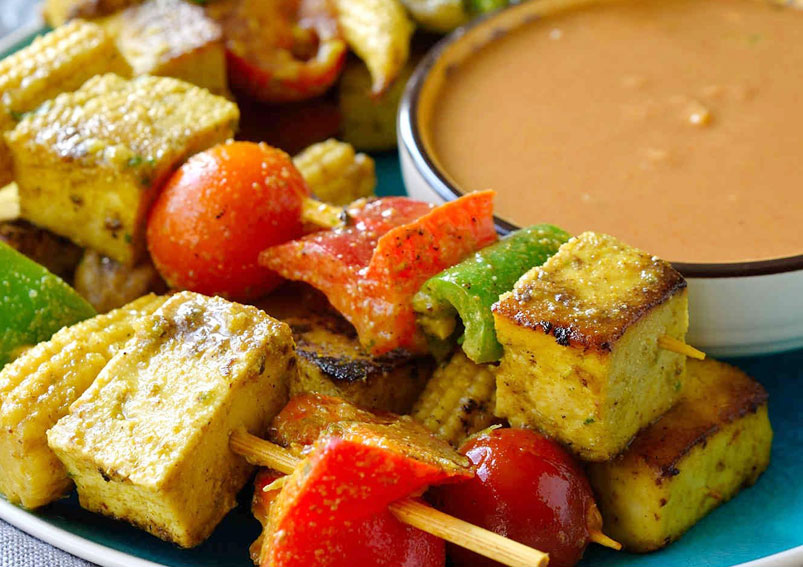 Vegetable Satay is a simple and spicy recipe for a quick meal. On lazy evenings, just put together various vegetables mixed with spices and cook them on satay sticks and a colorful and tasty meal will be ready in few minutes. It can be served as a starter dish for parties and get together.
Ingredients
!DOCTYPE html>
To Be Mixed Into A Marinate
1 cupthick low-fat curd (dahi)
2 tspbesan (bengal gram flour)
1 tspginger (adrak) paste
1 tspgarlic (lehsun) paste
1 tspchili powder
1 tspdried fenugreek leaves (kasoori methi)
1 tspgaram masala
2 tbspfinely chopped coriander (dhania)
1 tspoil
saltto taste
Other Ingredients
1-1/2 cupslow-fat paneer (cottage cheese) cubes
1/2 cupcapsicum cubes
1/2 cuponion cubes
2 tspoil for greasing and cooking
Directions
In a bowl add curd, besan, ginger, garlic, chili powder, dried fenugreek leaves, garam masala, chopped coriander, oil, and salt and mix well.
In a bowl add paneer, capsicum, onions, and the curd mixture, toss it gently and keep it aside to marinate for 10 to 15 minutes.
Thread a piece of the onion, 2 paneer cubes and a capsicum on a satay stick.
Heat a non-stick tawa (griddle), grease it lightly with ½ tsp oil, place satay on it and cook using ½ tsp of oil till they turn light brown in color from all the sides.
Serve it immediately.
Nutrient values per satay
Energy 42 k cal
Protein 2.9 gm
Carbohydrate 4.6 gm
Fat 1.4 gm
Vitamin A 232.4 mcg
Calcium 118.8 mg
Check More Party Recipes
Meghna Nath
This Recipe Rate :
(0) Reviews