Stuffed Paneer Chili Pakora Recipe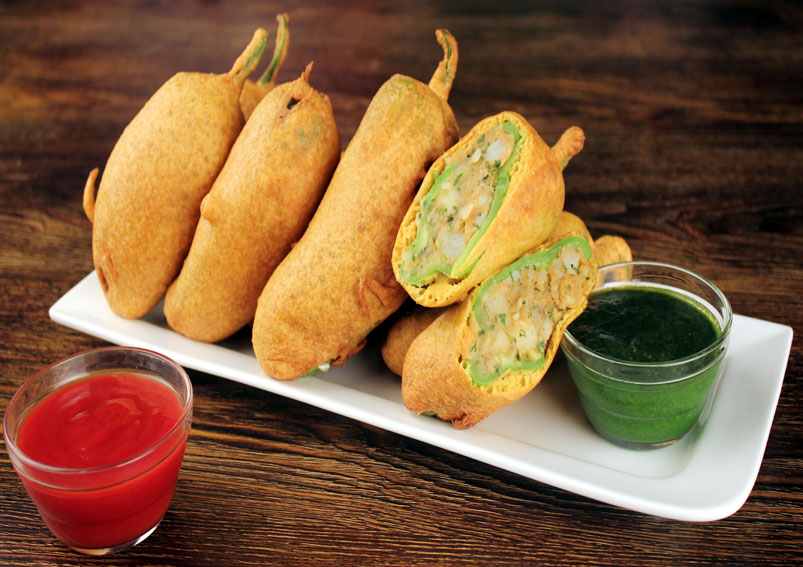 Stuffed Paneer Chili Pakora is a spicy delicious treat for those who loves green chilies. It is perfect with a hot cup of tea on a rainy day. Do try these mouth -watering Stuffed Paneer Chili Pakora and you will surely love them.
Ingredients
For The Stuffing
1 cupgrated paneer
1-1/2 tspginger-green chili paste
1 tspdried mango powder (amchur)
A pinchdried mango powder (amchur)
1-1/2 tbspturmeric powder
saltfinely chopped coriander (dhania)
For The Batter
1/2 cupbesan (Bengal gram flour)
1/2 cuprice flour (chawal ka atta)
A pinchturmeric powder (haldi)
1 tspchili powder
1/2 tspcarom seeds (ajwain)
1 tsphot oil
saltto taste
Other Ingredients
Directions
For the stuffing
In a bowl add grated paneer, ginger- green chili paste, dried mango powder, turmeric powder, chopped coriander, and salt and mix it well.
Divide the stuffing into equal portions and keep it aside.
For the batter
In a bowl add besan, rice flour, turmeric powder, chili powder, carom seeds, 1 tsp oil, and salt and add enough water to make a thick batter and keep it aside.
How to proceed
Stuff each chili with a portion of the stuffing and dip the stuffed chilies in the besan batter and deep-fry in hot oil till they turn golden brown in color from all the sides.
Drain on absorbent paper and serve hot with sweet and sour sauce.
Meghna Nath
This Recipe Rate :
(0) Reviews