Varalakshmi Vratham Special Sweet Pongal Recipe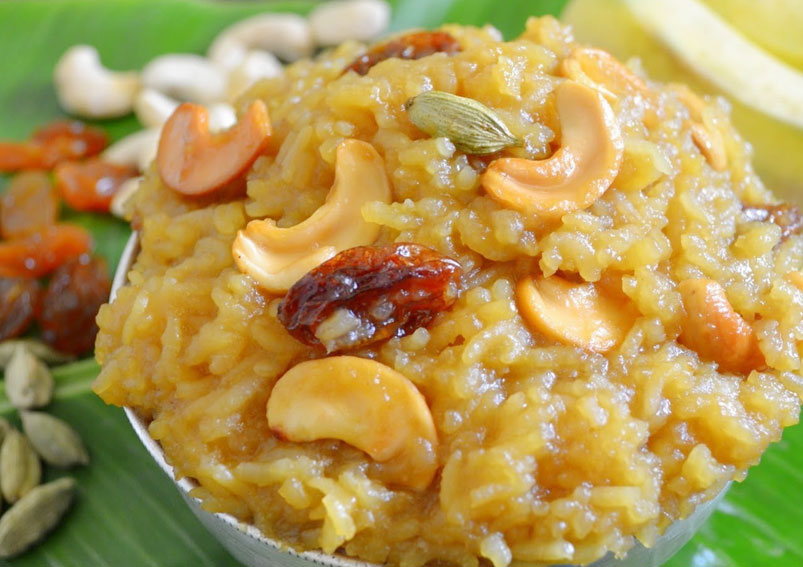 Sweet Pongal is a simple and delicious South Indian dessert, which is generally prepared on special occasion or any festival. It has a porridge-like consistency and it is mildly flavored with cardamom. This dish generally offered as a prasad (religious offerings) to god in South India. Try this Pongal this Varalakshmi Vratham.
Ingredients
1/4 cupyellow moong dal (split yellow gram)
1 tbspchana dal (split Bengal gram)
1 cupraw rice (chawal)
1 cupmilk
2 cupsgrated jaggery (gur)
1 tbspghee for serving
10-12chopped cashew nuts (kaju)
10-12raisins (kismis)
1 tspcardamom (elaichi) powder
1/4 tspnutmeg (jaiphal) powder
a fewsaffron (kesar) strands (optional)
1/4 cupghee for cooking
Directions
Heat a pan, add the moong dal and chana dal and dry roast on a medium flame till the raw smell disappears from the dal and stir continuously and once done switch off the flame and keep it aside.
Clean and wash the rice in enough water and drain the water from it and keep it aside.
In a pressure cooker, add the dals, milk and 2½ cups of water, mix it well and cook for 25 min or till the rice and dal become soft and allow the steam to escape before opening the lid and keep it aside.
Heat the ghee in a small pan, add the cashew nuts and raisins, fry on a low flame for a few seconds and stir continuously and switch off the flame and drain on absorbent paper and keep it aside.
In a pan, the jaggery with ¾ cup of water, mix it well and cook it on a low flame till the jaggery melts and stir continuously.
Add the cooked rice and dal and mix it well and add the cardamom powder, nutmeg powder, saffron, cashew nuts and raisins and mix it well and cook for a minute.
Just before serving, add the ghee, mix it nicely and serve it hot.
Nutrient values per serving
Energy 743 cal
Protein 10.7 g
Carbohydrates 118.5 g
Fiber 3.2 g
Fat 23.9 g
Cholesterol 0 mg
Vitamin A 229.1 mg
Vitamin B1 0.2 mg
Vitamin B2 0.1 mg
Vitamin B3 1.3 mg
Vitamin C 0.6 mg
Folic Acid 18.7 mg
Calcium 180.6 mg
Iron 15.1 mg
Magnesium 0 mg
Phosphorus 0 mg
Sodium 121.5 mg
Potassium 72.3 mg
Zinc 1.3 mg
Meghna Nath
This Recipe Rate :
(0) Reviews