Aloo Bread Pakora Recipe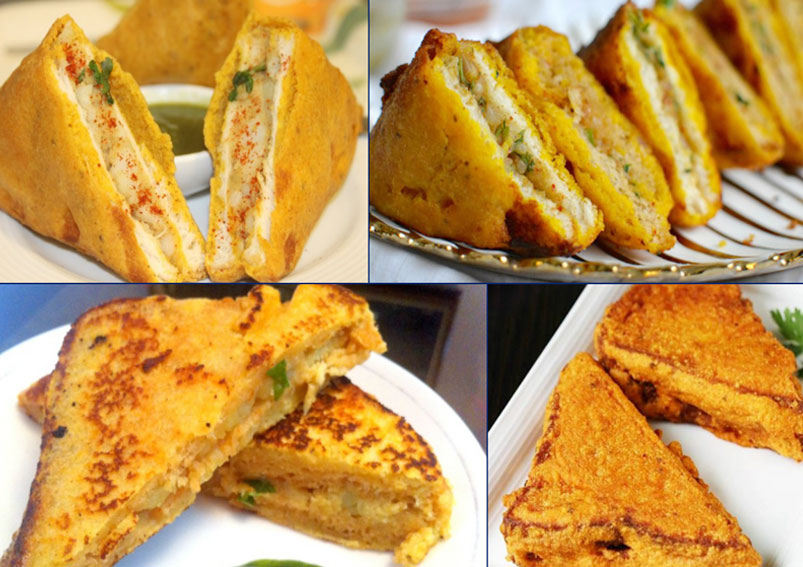 Aloo Bread Pakora is a favorite breakfast and tea time snack at our home. It is a great snack to have during the rainy season. Serve these pakoras with any sauce and accompanied with a cup hot Indian tea.
Ingredients
8

bread

slices, I have already trim the edges of the bread slices
3 mediumpotatoes boiled peeled and finely chopped (this will make 2 cups of chopped potatoes)
1 tablespoonoil
1/2 teaspooncumin seeds (jeera)
1/8 teaspoonturmeric (haldi)
1/4 teaspoonmango powder (amchoor)
1 tablespoonfinely chopped ginger
1green chili finely chopped adjust to taste
2 tablespoonschopped cilantro (hara dhania)
1/2 teaspoonsalt adjust to taste
For Batter
3/4 cupbesan, gram flour
1/8 teaspoonasafoetida (hing)
1/4 teaspoonbaking soda
1/4 teaspoonred pepper
1/2 teaspoonsalt adjust to taste
1 teaspoonoil
3/4 cupof water
Oilto fry
Directions
Batter
In a bowl add besan, salt, asafoetida, pepper, baking powder and oil and add water slowly to make a thick and smooth batter and set it aside.
Filling
Heat oil in a frying pan on medium heat moderately and add cumin seeds as the seeds crack add potatoes, ginger, green chili, turmeric, mango powder, and salt.
Stir-fry for about 3 minutes over medium flame and add cilantro mix it well and turn off the flame.
Making the Pakoras
Trim the edges of the bread slices and wet your palm with water, place the bread slice between your palm and press lightly making sure bread is moist, not wet.
Roll 1½ tablespoons of the mixture at a time into round balls. (The size of the potato balls will depend on the size of the bread.)
Place the filling in the center of the bread and mold the bread to completely cover the potatoes all around, giving a round shape.
Heat about 1 inch of oil in a frying pan on medium high flame and to check if the oil is ready, put one drop of batter in oil and the batter should come up but not change color right away.
Dip the potato balls into the batter one at a time, make sure the potato balls are completely covered with batter.
Then, slowly drop them into the frying pan and turn them occasionally and fry the pakoras until all sides are golden-brown.
Cut them in half before serving and serve them with any sauce of your choice.
Meghna Nath
This Recipe Rate :
(0) Reviews