Easy Pineapple Kheer Recipe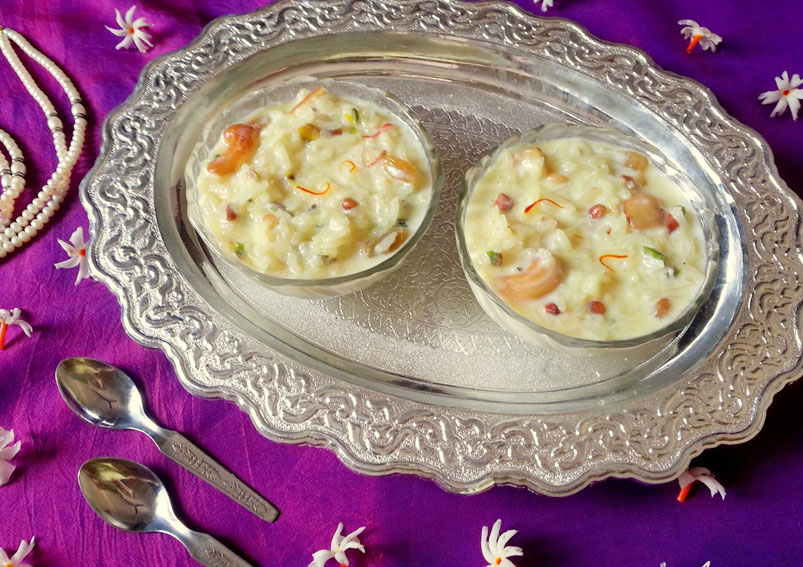 Pineapple Kheer is traditional Indian kheer recipe.Pineapple is best nutrient rich fruit among all fruits. It provides lots of health benefits because of its high quantity of minerals, fiber, and vitamin C. Let's follow this recipe.
Ingredients
5 CupsWhole milk
14ozPineapple chunks in pineapple juice (1 1/2 cans)
4 TbspCoconut powder (finely shredded coconut)
1 TbspCornflour
3/4 CupSugar
Directions
Boil milk in a heavy bottom wide pan on medium-high flame and stir often to make sure the milk does not burn in the bottom of the pan.
Cook until the milk is reduced to about half of its original volume.
In a bowl add 1 tsp Corn flour, 4 tsp of water and add this in the milk, also add 4 tsp of Coconut powder and cook the milk for10 minutes on low flame and then turn off the flame and let the milk cool down.
Drain 1 can pineapple using strainer let the juice dripped through without squeezing. (Note: juice and pineapple chunks both will be used.)
Cut each chunk of pineapple in about 3 to 4 small pieces and in a pan put all the pineapple juice drained from 1 can, add ¾ cup sugar and the pineapple pieces and cook on medium flame for about 30 minutes or until the pineapple pieces become soft and translucent.
Then from another pineapple can, take out half of pineapples and half of its juice- blend it in the blender and add this to the cooked pineapple mixture and cook for additional 10 minutes and switch off the flame.
Let pineapple mixture come down to room temperature and once both the milk and pineapple mixture are cooled down, add the pineapple mixture in the milk and stir gently.
Serving Suggestion
Keep in the refrigerator for at least one hour before serving the dessert and you can use the remaining half of pineapple chunks to decorate the kheer making floral patterns and any other way you might like.
Tips
Mix pineapples in the milk when both the milk and pineapples are at room temperature or cold.
Check More Festival Recipes
Meghna Nath
This Recipe Rate :
(0) Reviews