Healthy Barley Soup Recipe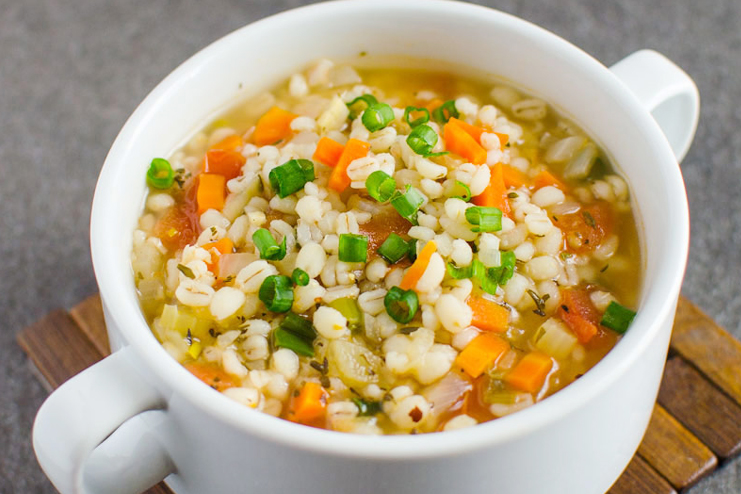 Barley Soup is a wholesome dish that you can make for weeknight dinners. Barley is a versatile cereal. It is rich in fiber and vitamin B. When the weather is cold a bowl of barley soup will not only improve your health but also make a delicious appetite.
Ingredients
2 tbsp

barley

(jau), soaked for 2 hours and drained
1 tspoil
1 tspfinely chopped garlic (lehsun)
1/4 cupfinely chopped spring onions whites
1/4 cupfinely chopped carrots
2 tbspwhole masoor (whole red lentil), washed and drained
saltto taste
1/4 cupfinely chopped tomatoes
1/4 cupfinely chopped spring onion greens
2 tbspfinely chopped coriander (dhania)
freshlyground black pepper (kalimirch) to taste
Directions
Heat oil in a pressure cooker, add garlic and spring onion whites and saute on a medium flame for a few seconds.
Add carrots, masoor, barley, salt and 4½ cups of water, mix well and pressure cook for 25 min and allow the steam to escape before opening the lid.
Transfer the barley-masoor mixture in a deep non-stick pan, add tomatoes, spring onion, coriander, a little salt and pepper and mix it well.
Cook on a medium flame for 1 to 2 minutes and stir occasionally.
Serve it hot.
Nutrient values per serving
Energy 41 k cal
Protein 2.2 gm
Carbohydrates 7.7 gm
Fat 1.4 gm
Fibre 0.7 gm
Iron 0.7 mg
Barley is a good source of fiber, selenium, B vitamins, copper, chromium, phosphorus, magnesium.
Meghna Nath
This Recipe Rate :
(0) Reviews