Crispy Fried Chicken Recipe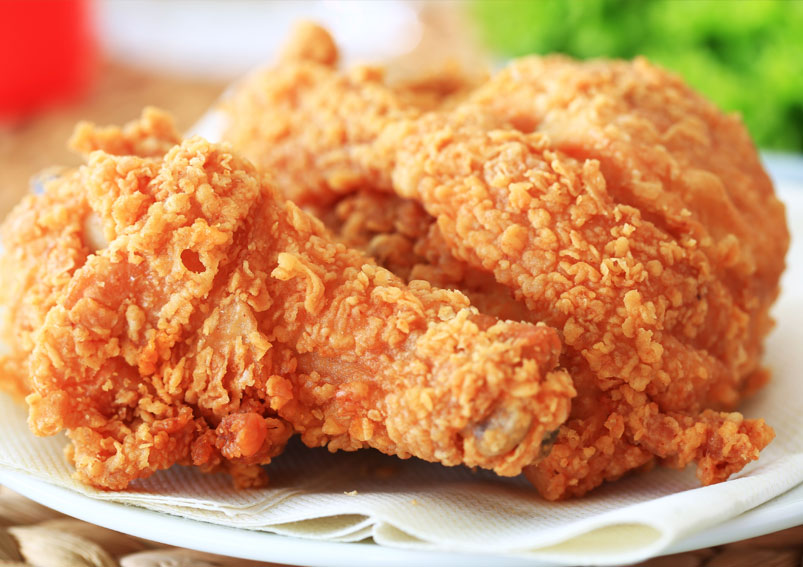 Crispy Fried Chicken is all time Favorite snack. In this recipe, the boneless chicken is dip in the spicy batter and then deep fried. This is tasty and lip smacking snack. Here is the Crispy Fried Chicken recipe for you to try at your home.
Ingredients
1/2 kgchicken, cut into long pieces
1-1/2 cupsall-purpose flour (maida)
2 tbspcornflour
1 tsp

paprika

1/2 tspblack pepper powder
3/4 cupbuttermilk
1/2 tspsoda-bi-carbonate
To tasteSalt
For fryingOil
Directions
Heat a pan with oil and in a bowl add flour, cornflour, paprika, pepper powder, buttermilk, soda-bi-carbonate, and salt and mix it well and make a thick batter.
Pour 1 tbsp of hot oil into the batter and continue mix with the spoon.
Take a piece of chicken, dip into the prepared batter and drop into hot oil and make sure that the chicken piece if fully coated with the batter, else it will be raw while eating.
Fry carefully on medium flame and fry till the chicken turns into crispy, golden brown color.
Drain on oil absorbent paper.
Serve them hot with cheese sauce.
Tips:

1. You can enjoy this delicious snack dish with your favorite sauce or dip.
2. Make sure, serve this snack dish immediately after frying or else the chicken turns mushy and soggy in few minutes.
By Meghna Nath
This Recipe Rate :
(0) Reviews