Tasty Pinwheel Sandwich Recipe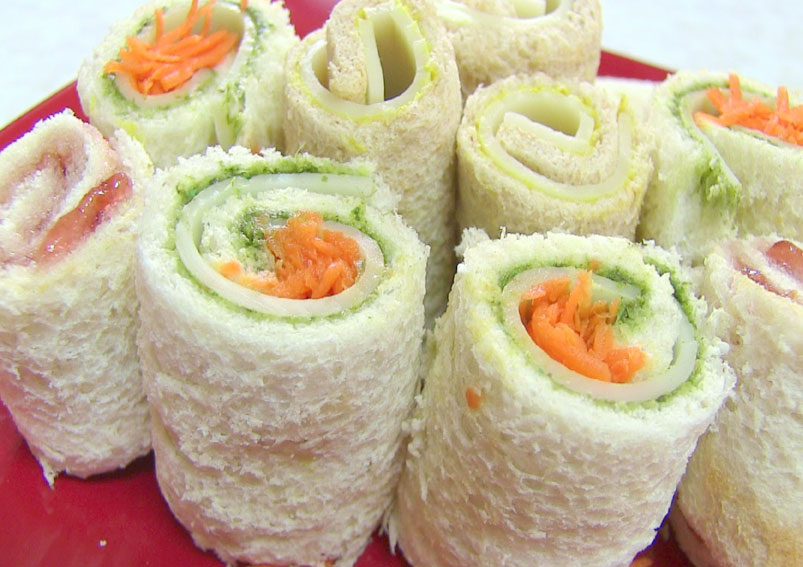 Pinwheel Sandwich is an easy yummy starter recipe for parties. Kid's, as well as adults, would love to have this sandwich. It is a perfect appetizer for any special occasion. Let's follow this recipe.
Ingredients
6bread slices, whole grain/

white bread

1 tspbutter
1 tspgreen chutney
2cheese slices
1 tsptomato sauce
¼carrot, grated
2 tbspgrated lettuce
saltto taste
¼ tsppepper, crushed
For Green Chutney
1 cupcoriander leaves
2garlic
3green chilies
½ tsplemon juice
saltas required
Directions
For the Green Chutney
In a blender add coriander leaves, garlic, green chilies, lemon juice, salt and water as needed and blend into a smooth paste and keep it aside.
How to Proceed
Take 3 bread slices and cut the edges from all the bread sides and do not waste the sides, you can prepare bread crumbs from it and to prepare bread crumbs (see the notes below).
Roll the bread flat using chapati roller and roll as thin as possible and now apply butter, green chutney and sauce to each bread slices.
Then place butter slice bread over green chutney slice bread and also place a cheese slice over butter slice bread and then place the sauce bread slice.
Place very little grated carrot and lettuce and sprinkle some salt and pepper.
Now slowly roll the sandwich tightly holding all three bread slices and cut the rolls into 1-inch pieces or as desired.
Serve it with any sauce of your choice.
Check More Bake Recipes
Meghna Nath
This Recipe Rate :
(0) Reviews