Tasty Coconut Pudding Recipe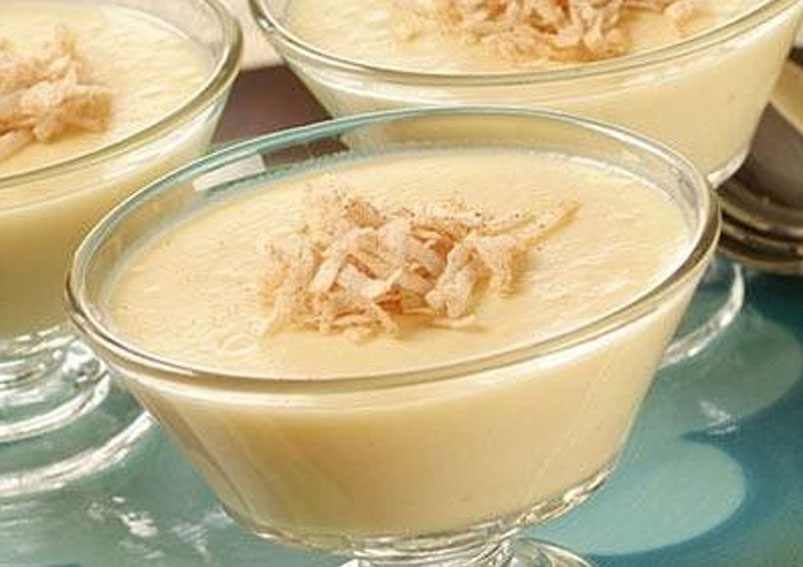 Coconut Pudding is an authentic Indian Dessert. The coconut milk gives the pudding a very remarkable taste and delicate consistency. Once you taste this pudding, you will remember the taste forever.
Ingredients
For The Coconut Pudding
8coconut milk (nariyal ka doodh), (easily available in the market)
1/2 cupsugar
1/2 cupcornflour
For The Mango Sauce
2medium sized mangoes, pureed and strained
2 tbspdark rum (optional)
For The Strawberry Rum Sauce
1 1/2 cupsstrawberries, pureed and strained
1/2 cupsugar
2 tbspdark rum (optional)
Directions
For the coconut pudding
In a broad non-stick pan pour coconut milk, sugar, and cornflour, and cook on a medium flame for 5 to 7 minutes or till the mixture is thick and stir continuously with help of a whisk.
Remove from the flame and pour equal quantities of the mixture into individual bowls.
Allow it to cool completely and keep it in the refrigerator for 4 hours or till the pudding sets.
For the mango sauce
In a bowl add mango puree and rum ( if you are using) and mix it well and keep it in the refrigerator.
Add the capsicum, dry mango powder, chili powder, chopped paneer, salt, and coriander, mix it nicely and saute on a medium flame for 2 minutes.
Keep it aside to cool completely and divide the stuffing into equal portions and keep it aside.
For the strawberry rum sauce
In a bowl add strawberry, sugar, and rum and nicely mix it. and keep in the refrigerator it for 4 hours or till it sets
How to serve
Remove from the refrigerator and serve the coconut pudding chill with mango sauce and strawberry rum sauce.
Check More Dessert Recipes
Meghna Nath
This Recipe Rate :
(0) Reviews