Methi Makai Maize Roti Recipe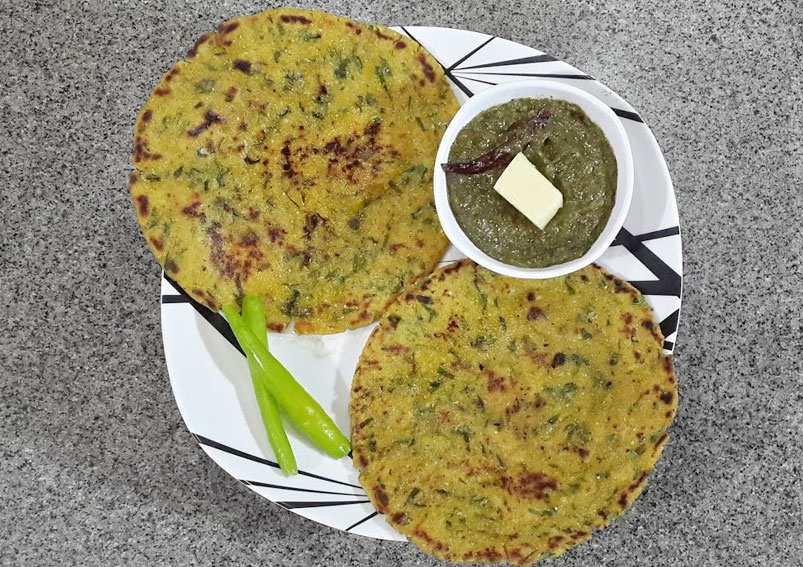 Methi Makai(Maize) Roti is a traditional Punjabi flat bread. It is made from Makai ka atta (Maize flour) mixed with methi(fenugreek). This roti is perfect for morning breakfast and also healthy. To prepare Methi Makai Roti at home follow this recipe.
Ingredients
1 cup

maize flour

(makai ka atta)

4 tbspchopped fenugreek (methi) leaves

2 tspgreen chili paste
2 tspoil
saltto taste
Other Ingredients
maize flour(makai ka atta) rolling
melted butterfor brushing
Directions
In a bowl add maize flour, chopped fenugreek leaves, green chili paste, and 2 tsp oil, and salt.
Knead into a soft dough by using enough water and knead it very well for at least 5 minutes so it is easy to roll.
Divide the dough into 4 equal portions and roll each portion into a 100 mm. (4") diameter circle by using a little maize flour.
Heat a non-stick tawa (griddle) and cook each roti, till brown spots appear on both the sides.
Brush with melted butter and transfer to a serving plate.
Serve this hot roti with sarson ka saag.
Maize flour is a good source of dietary fiber, antioxidants, vitamin B, omega 6 unsaturated fat, and proteins.
Nutrient values
Amt 22 gm
Energy 38 k cal
Protein 1.2 gm
Cho 6.1 gm
Fat 1.0 gm
Vitamin A 68.0 mcg
Vitamin C 2.2 mg
Calcium 12.1 mg
Iron 0.4 mg
Folic Acid 1.1 mcg
Fibre 0.4 gm
Meghna Nath
This Recipe Rate :
(0) Reviews