Tasty Chicken Spring Roll Recipe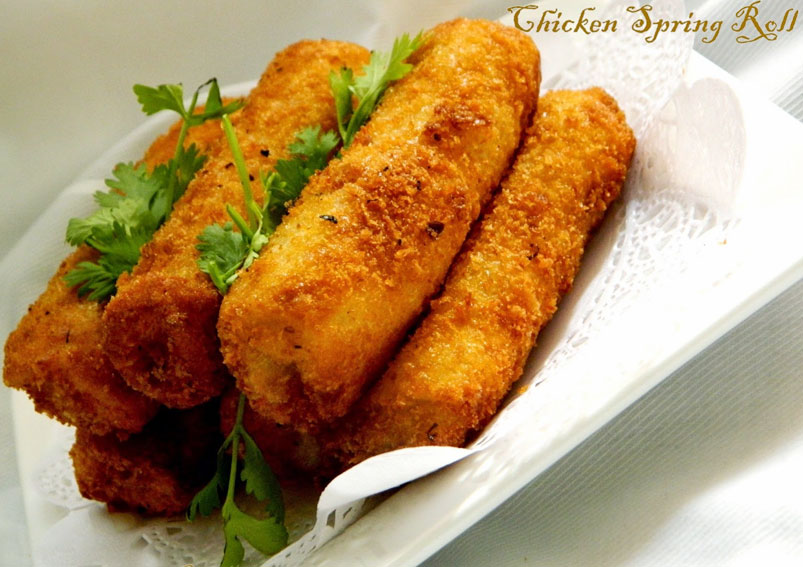 Chicken Spring Roll is stuffed with spicy chicken filling and fried. This is a favorite snack for non-vegetarian lovers. These rolls are popular Indian street food recipe. This is an easy snack recipe that you can serve anytime.
Ingredients
1 cup

Chicken minced

12-16Spring roll wrappers/sheet (easily available in the market)
2 tablespoonsOil for deep-frying
1 tablespoonGarlic chopped
1 tablespoonGinger chopped
½ cupCabbage shredded
2 mediumCarrots cut into juliennes
1 teaspoonSoya sauce
5 teaspoonsOyster sauce
Saltto taste
to tasteCrushed black peppercorns
1-2Spring onion greens chopped
2-3 tablespoonsRefined flour (maida)
3-4 tablespoonRice vinegar
½ teaspoonCrushed red chilies
Directions
Heat oil in a non-stick pan and add garlic and ginger and saute well and add cabbage and carrot and toss it on high flame.
Add chicken mince, soya sauce, 2 teaspoons oyster sauce, salt and crushed peppercorns and mix it well and cook on high flame for 2-3 minutes.
Reserve some of the spring onion greens for the sauce and add the remaining spring onions, switch off the flame and mix it well.
Transfer this chicken mixture onto a plate and keep it aside to cool.
In a bowl add flour and some water and mix it to make a thick paste and keep it aside.
Place the spring roll sheets on a worktop and put a portion of the cooked chicken mixture on one side of each sheet and roll along with folding the edges.
Apply the prepared paste on the edges and seal tightly.
Heat sufficient oil in a pan and deep-fry the rolls till golden in color and drain on absorbent paper.
To make the sauce( for serving with the spring rolls)
In a bowl add soya sauce, vinegar, crushed red chilies, crushed peppercorns and reserved spring onion greens and add some water and mix it well.
Serve hot rolls with the prepared sauce.
Nutrition Info
Calories: 1395
Carbohydrates: 116.9
Protein: 68
Fat: 72.8
Other: Niacin- 4.4mg
Check More Snack Recipes
Meghna Nath
This Recipe Rate :
(0) Reviews