Parwal Ki Mithai Recipe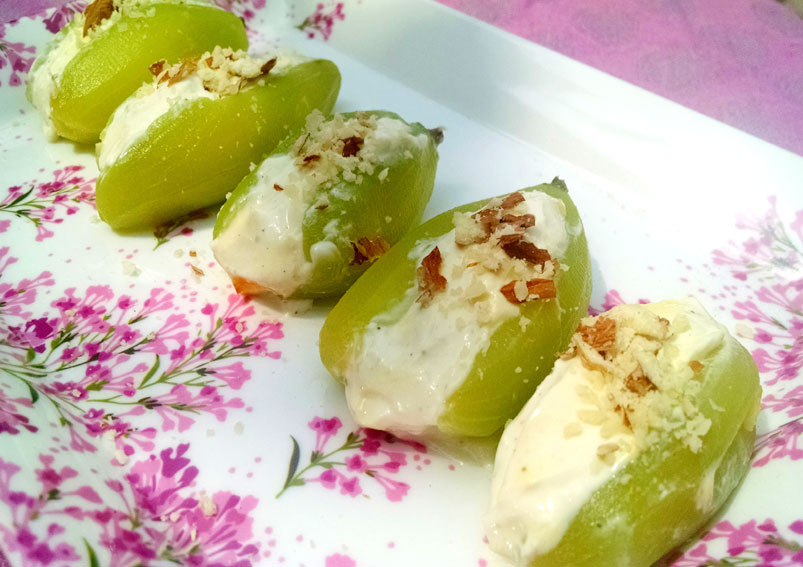 Parwal Ki Mithai is commonly made in North India during festival and marriage. It can be easily made at home and tastes delicious at the same time. You should try this recipe if you want to give a new twist to your regular vegetable Parwal( Pointed Gourd). Serve this as a sweet dish after your delicious meal and enjoy it with friends and family.
Ingredients
1 cup

Parwal

, peeled and seedless
1/4 TspSoda Bi- Carbonate
For Sugar Syrup
1 CupSugar
1/2 CupWater
1/2 TbspMilk
For Stuffing
1 CupMawa/ Khoya, grated
1/4 CupMilk Powder
8Almonds, finely chopped
8Cashews, finely chopped
10Pistachio's, finely chopped
1/2 TspCardamom Powder
1/2 CupSugar
For Garnishing
2 tspPistachios, halves
1 pinchsaffron threads
Directions
Peel and slit the Parwal in the center and remove the seeds.
Boil the water in the pan and add a pinch of baking soda.
Add Parwal and boil it for 5-7 minutes.
Heat the sugar and water together in a separate pan till one string syrup.
Add boiled and drained Parwal in sugar syrup.
Soak the Parwal in syrup for 5-10 minutes and keep aside to cool.
Heat the grated mawa in a non-stick pan.
Add powdered sugar, cardamom, and chopped nuts in the mawa mixture and cook for two minutes.
Remove the mixture into the bowl and add milk powder and mix it well and keep it aside to cool.
Stuff the Parwal with mawa mixture and garnish with chopped pistas and saffron.
Keep in freeze and serve chill.
Note:
You can garnish with silver Warq too ,which will give a nice beautiful outlook.
Choose any combination of nuts according to your choice.
Also, Read Yummy Spongy Rasgulla Recipe
Meghna Nath
This Recipe Rate :
(0) Reviews