Healthy Ragi Pancake with Banana Recipe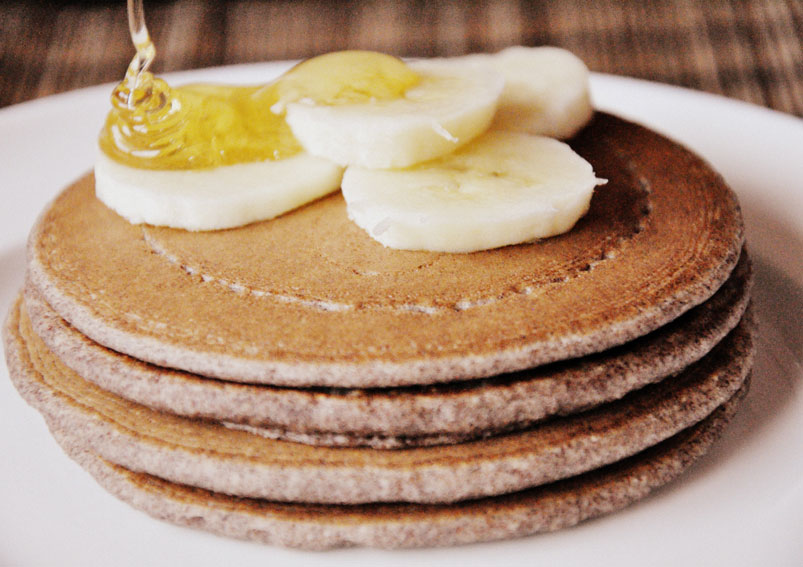 Ragi Pancake makes a great combination with banana. This is a perfect after school snack or morning breakfast dish. This pancake is loaded with nutrients and a healthy wholesome dish for your family members.
Ingredients
1/2 cupragi flour (finger millet flour)
1/2 cupwhole wheat flour
1 largebanana, mashed
1 teaspoonbaking powder
a pinchof salt
1 largeegg, whisked (or Flax meal)
Oilfor cooking
Directions
In a bowl, ragi flour, wheat flour, mashed banana, baking powder, salt and egg and mix it nicely and the batter should be of pouring consistency but should not be watery or even too thick.
Heat a skillet greased with a little oil on medium flame and once heated, pour a ladle or 1/4 cup of the batter onto the skillet.
Allow the pancake to cook on medium flame and you will notice the top side begins to get bubbles and air pockets and will slowly get steamed and cooked.
At this point flip to the other side and allow it to cook for about 30 seconds.
Flip it again and cook it till brown in color and transfer to a serving plate.
Topped it up with honey and serve it and enjoy.
Ragi is a good source of iron, vitamin, fiber, and calcium.
Check More High Fiber Recipes
Meghna Nath
This Recipe Rate :
(0) Reviews