Tasty Masala Toast Recipe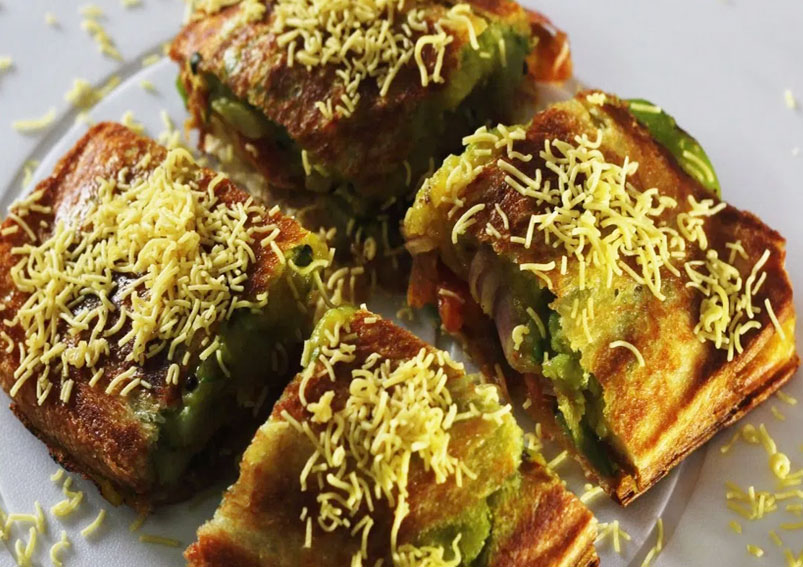 Masala Toast is a delicious and quick to make tea time snack recipe. This toast can be also packed in your lunch box. They are an excellent choice for a hearty and satisfying snack. This is perfect with a cup of tea. Let's follow this recipe.
Ingredients
To Be Blended Into Garlic Green Chutney r
1 1/2 cupsroughly chopped coriander (dhania)
1/4 cupfreshly grated coconut
1 tbspchopped spinach (palak)
1 tbsproughly chopped garlic (lehsun)
2 tbsproughly chopped green chilies
saltto taste
5-6drops of lemon juice
1/4 cupwater

For The Aloo Masala

2 tspoil
1/2 tspmustard seeds ( rai / sarson)
6 to 8curry leaves (kadi patta)
1 cupboiled , peeled and mashed potatoes
1/4 cupboiled green peas
1/4 tspturmeric powder (haldi)
1 tspgreen chili paste
1 tbspfinely chopped coriander (dhania)
saltto taste

Other Ingredients

8bread slices
8 tspbutter
8 tspgarlic green chutney
1 tspsandwich masal(easily available in the market)
8sliced onions
12tomatoes slices
1/2 cupcapsicum slices
3 tsp butter for brushing and greasing

For The Topping

2 tspbutter for brushing
4 tbspnylon sev
Directions
For the aloo masala
Heat the oil in a deep non-stick pan and add the mustard seeds and when the seeds crackle, add the curry leaves and saute on a medium flame for a few seconds.
Add the potatoes, green peas, turmeric powder, green chili paste, coriander, and salt, mix it well and cook on a medium flame for a minute.
Divide the aloo stuffing into 4 equal portions and keep it aside.
How to proceed
Apply 1 tsp of butter and 1 tsp of garlic green chutney on each bread slice and keep aside.
Place a slice of bread, with the buttered side facing upwards, on a clean, dry and flat surface.
Place one portion of the aloo masala and spread it evenly over the bread and arrange 2 onion slices, 3 tomato slices and 6 to 7 capsicum slices over the stuffing and sprinkle ¼ tsp of sandwich masala evenly over it.
Cover it with another slice of bread, with the buttered side facing downwards and press it lightly.
Spread ¼ tsp of butter evenly over the bread slice and grease a sandwich toaster on both the sides by using ½ tsp of butter.
Place the sandwich in the sandwich toaster and cook on a medium flame, till it turns brown and crisp from both the sides.
Cut into equal pieces, place it on a plate and apply ½ tsp of butter evenly over it.
Sprinkle 1 tbsp of sev evenly over it and serve it.
Meghna Nath
This Recipe Rate :
(0) Reviews