Vegetable Ragi and Oats Uttapam Recipe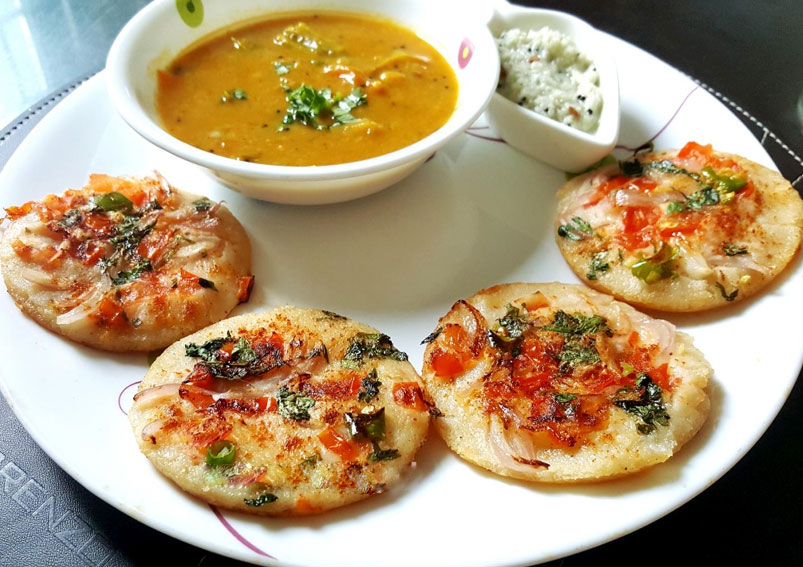 The Vegetable Ragi and Oats Uttapam is a super simple and a quick preparation. This uttapam is an innovative version of a traditional uttapam. It is a wholesome dish for morning breakfast. Try this healthy recipe.
Ingredients
for Dosa/ Uttapam Batter
1/2 cupWhite Urad Dal (Whole)
80 gramsSaffola Veggie Delight Oats( you can use plain rolling oats)
1 cupBrown Rice
1/2 cupRagi Seeds
1 teaspoonFenugreek Seeds (Methi)

For Vegetable Ragi & Oats Uttapam

1 cupOats- Ragi dosa/Uttapam batter
1Red Bell pepper (Capsicum), finely chopped
2Carrots, grated
1Tomato, finely chopped
1Green Chili, finely chopped
as requiredCooking oil
saltto taste
Directions
For Dosa/Uttapam Batter
Soak the urad dal with fenugreek seeds and oats in water in the separate bowl and soak the brown rice and ragi in water in the separate bowl and soak them for 5 hours.
Grind them separately to make a thick batter in a mixer grinder and combine all the blended batter in a bowl and add salt, mix it nicely and allow it to ferment for 8 hours.
For Vegetable Ragi & Oats Uttapam Recipe
In a bowl add red capsicum, carrots, green chili, tomato and mix it and keep it aside.
Heat a pan on medium high flame and add oil and if you are using an iron skillet then check if the skillet is hot, you will know when you sprinkle some water and it sizzles.
Pour a ladle full of the batter onto the skillet and just give it a lite swirl to spread it just a bit and it should be like a thick pancake.
Sprinkle a generous amount of the vegetable topping over the Uttapam and drizzle 1/8 teaspoon of oil around the uttapam and cover with the lid and cook on a low flame.
Once you notice the top is lightly steamed and the uttapam is not raw, press the filling down with a flat spatula and then flip the Uttapam to cook on the other side and cook on a low flame.
Switch off the flame and transfer it to a serving plate and serve it hot with a carrot chutney.
Oats and ragi both are loaded with nutrients and also healthy, so try to include them in your daily diet.
Meghna Nath
This Recipe Rate :
(0) Reviews