Crispy Kaju Pakora Recipe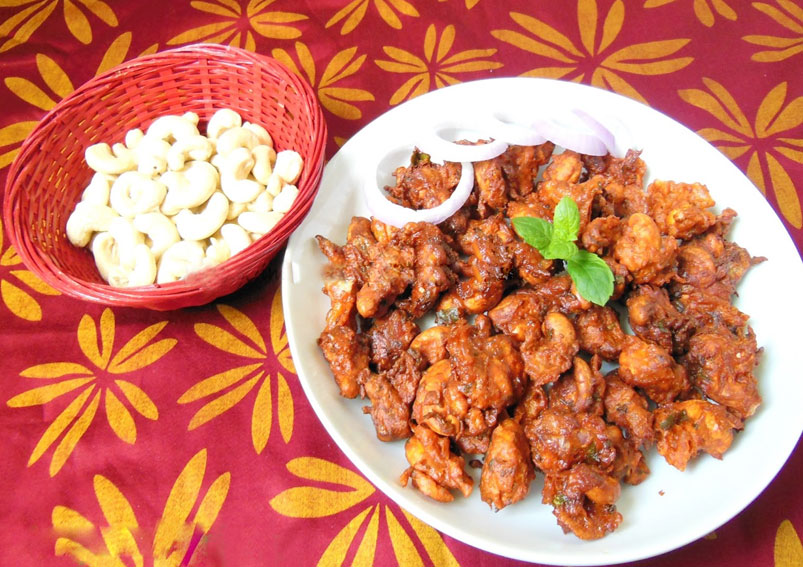 Cashew Pakora is a mouth watering Indian snack. It serves as an excellent starter in the Indian restaurants. It is yummy, crispy and crunchy pakora. This is excellent with a cup of hot coffee. Try to prepare this pakora at your home by following this recipe.
Ingredients
1/2 cup

Cashew nuts

, (whole)
80 gramsGram flour (besan)
1 cupRice flour
1/2 cupRed chili powder
1 teaspoonGinger garlic paste
1 teaspoonMint Leaves (Pudina), finely chopped
1 teaspoonFennel seeds (Saunf), crushed
Cooking oilfor deep frying
saltto taste
Directions
In a deep frying pan, heat enough oil to deep fry and mean time prepare the batter
In a bowl add besan, rice flour, red chili powder and mix them nicely and to the dry mixture, add ginger garlic paste, salt, crushed fennel seeds, and mix it well.
Add finely chopped mint leaves, and mix it well and add whole cashew nuts and toss well till the cashews are well coated with the mixture.
Add 1 tablespoon to of hot oil to cashew mixture and mix it well.
Sprinkle water over the mixture, little by little to make a lump free dough( carefully mix it, see that you don't break the kaju)
Pinch out small portions of the prepared dough, and gradually drop the batter into the deep frying pan with hot oil and fry them in batches till golden and crisp.
Drain the cashew pakoras on the kitchen towel to absorb excess oil from the pakoras.
Serve Kaju Pakora Recipe (Cashew Nut Fritters) with a hot cup of tea.
Cashew nut is rich in vitamin E, magnesium, and zinc.
Meghna Nath
This Recipe Rate :
(0) Reviews