Healthy Quinoa Veg Soup Recipe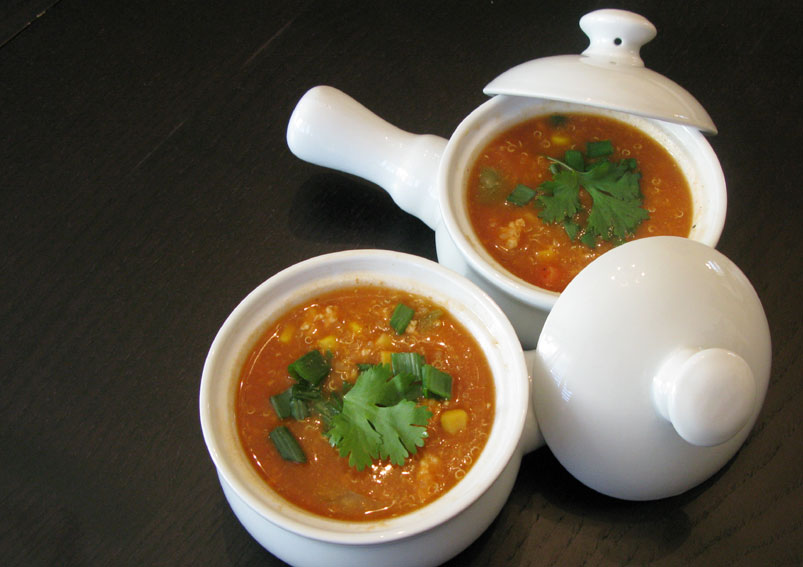 Quinoa Soup is a very delicious, quick, healthy and protein-rich soup. It is a healthy combination of vegetable and Quinoa. This soup will keep you full until your next meal. Let's follow this recipe.
Ingredients
1/4 cup

Quinoa

, soaked in warm water for 10 min
1 cupBlack Chickpea (kala chana), cooked
1/2 cupVegetable stock
1Onions, finely chopped
2Bay leaf (tej patta)
1 cupWater
1 cupCarrots, beans and peas
1/2 cupGreen Bell Pepper (Capsicum), chopped
1 teaspoonGinger, grated
1 tablespoonCooking oil
1/4 cuptomato puree, or pasta sauce
1/2 tablespoonKashmiri red chili powder
1/2 teaspoonCumin seeds
1/2 teaspoonCoriander Powder
1/2 teaspoonCoriander leaves (Dhania)
Saltto taste
Directions
In a pressure cooker add oil and add onions, grated ginger, garlic, and bay leaf and fry till the onions turn golden brown.
Once the onions turn golden brown in color, add tomato puree, bell pepper, carrots, beans, and peas and salt and fry it nicely.
Add the cooked chickpea, red chili, powder, jeera, dhania powder, Quinoa, vegetable stock, water and pressure cook it for 20 min on a low flame.
Garnish with cilantro and adjust the salt and spices according to your taste.
Serve Quinoa Veg Soup with Chili Cheese Toast.
Quinoa is a good source of iron, B-vitamins, magnesium, phosphorus, potassium, calcium, vitamin E, and fiber.
Meghna Nath
This Recipe Rate :
(0) Reviews