Tasty Banana Halwa Recipe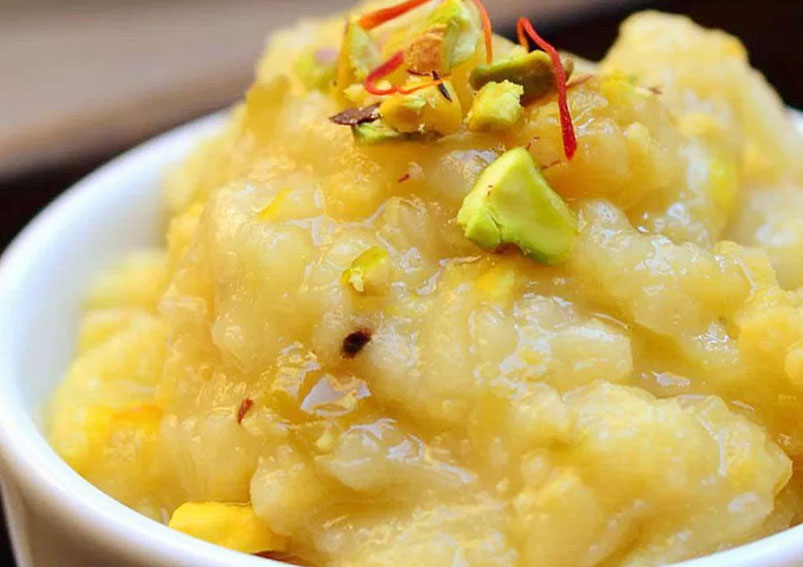 Banana Halwa is a traditional Goan dessert recipe that is preoared from bananas. This is mouthwatering halwa which is simple and quick to prepare. It is a delicious dessert which can be also served as a sweet dish for any festival or special occasion.
Ingredients
3Ripe Bananas, Nendra variety
9-10Almonds, blanched
3 tablespoonsSugar
3 tablespoonsGhee
4Cloves
1 teaspoonCardamom Powder
Directions
Peel the skin of the bananas and slice the bananas into thin rounds.
Heat ghee in a heavy bottomed pan over medium heat, add the bananas and stir fry in the ghee for a few seconds until it released an aroma.
Add a 2 to 3 tablespoons of water, sugar, and cloves and cook the bananas on low flame until the liquid thickens and when you lift it with a spoon and drop it and it should fall in thick drops.
Once the bananas have a thick halwa like consistency, add the cardamom powder and turn off the flame.
Allow the halwa to cool and transfer it to a serving dish and if you want you can garnish with any chopped nuts of your choice
Serve it and relish it flavors.
Banana is rich in vitamin, B6 manganese, vitamin C, potassium, dietary fiber, magnesium, folate.
Meghna Nath
This Recipe Rate :
(0) Reviews