Oats and Raisin Cookies Recipe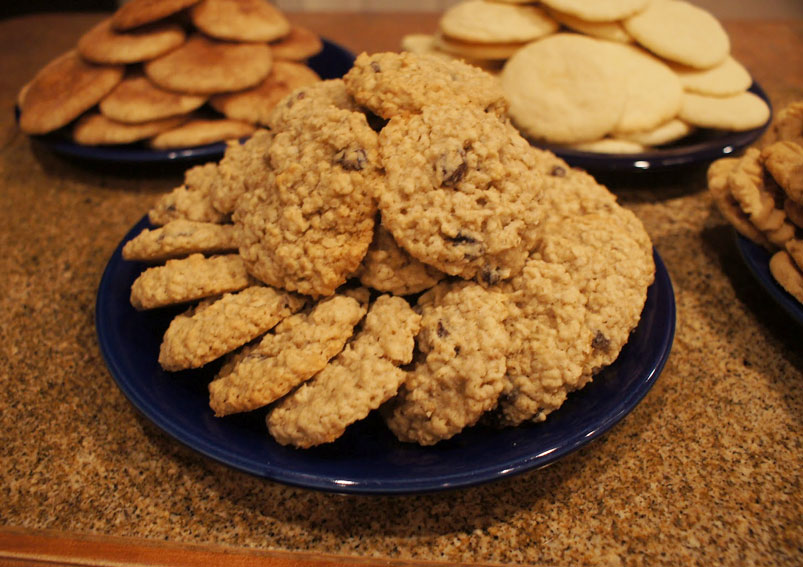 Oats and Raisin Cookies are simple cookies that is prepare with oats, cinnamon, and flour. This healthy recipe has a long shelf life and also very tasty and crunchy. These cookies are perfect with a cup of tea or coffee. Try out this easy recipe.
Ingredients
3/4 cupquick cooking rolled

oats

1/4 cupwhole wheat flour (gehun ka atta)
1/4 cupbrown sugar
1/4 cupchopped raisins (kismis)
1 tbsplow-fat butter
2 tbsplow-fat milk (99.7% fat-free)
Directions
Preheat the oven to 180°c
In a bowl add oats, brown sugar, chopped raisins, butter, 2 tbsp milk, and wheat flour and mix it gently till the mixture binds well.
Divide the mixture into equal portions and shape each portion into a 50 mm. (2") diameter flat round cookie.
Place a sheet of aluminum foil on a baking tray and arrange the cookies on the baking tray lined with aluminum foil.
Bake in a preheated oven for at 180°c (360°f) for 35 to 40 minutes and turn the cookie once after 20 minutes and again bake it.
After the cookie gets baked and remove from the oven and cool it and store in an airtight container and enjoy with a hot cup of tea whenever you want.
Nutrient values per cookies
Energy 78 calories
Protein 1.4 gm
Carbohydrates 15.7 g
Carbohydrate 13.1 gm
Fat 2.2 gm
Fibre 0.3 gm
Meghna Nath
This Recipe Rate :
(0) Reviews