Tasty Egg Drop Curry Recipe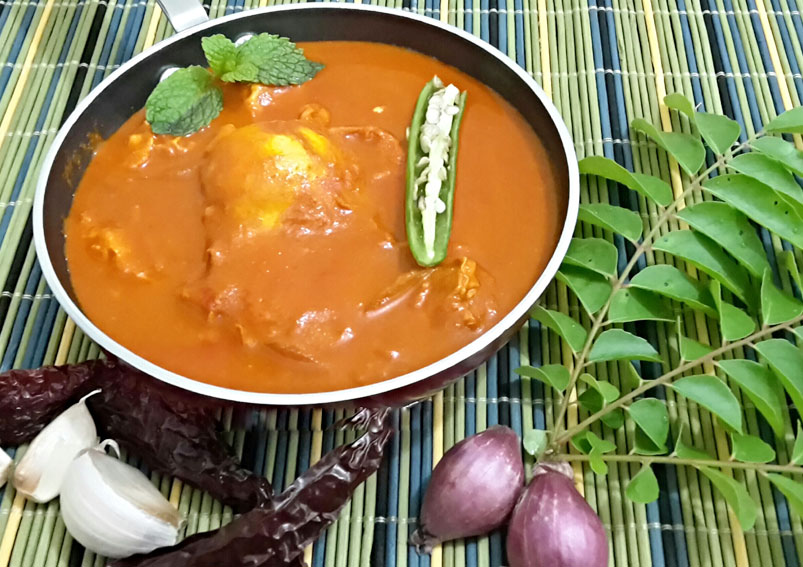 This curry is made from eggs which are cracked and dropped into the spicy gravy. This is a traditional Goan curry which is easy to cook. This curry is perfect with steamed rice and best for any occasions.
Ingredients
3Whole

Eggs

1Onion, finely chopped
5Garlic, grated
For the gravy
3/4 cupFresh coconut, grated
1 tspOnion, finely chopped
1/2 cupCoriander seeds
1 cupTamarind, marble sized ball
1 tspDry red chilies
1/2 tspTurmeric powder (Haldi)
as neededWater
Saltto taste
2 tablespoonCooking oil
Directions
In a blender add onion, coriander seeds, tamarind, turmeric, coconut grated, and 1/2 cup of warm water and add more water if needed and blend into a smooth paste.
Heat a kadhai/wok, add oil and add 1 small chopped onion and fry until the onion turns soft and translucent.
Add garlic, stir it for a few seconds until the raw smell of garlic goes away.
Now pour the blended coconut paste into the onion-garlic mixture and stir it well to combine.
Add a little water to adjust the consistency of the gravy and add salt and as the curry is boiling, slowly break the egg directly into the gravy at a time.
Let the eggs get slightly cooked in the gravy and once the eggs are cooked through, turn off the flame and serve it hot.
Check More Goan Recipes
Meghna Nath
This Recipe Rate :
(0) Reviews