Healthy Ragi Roti Recipe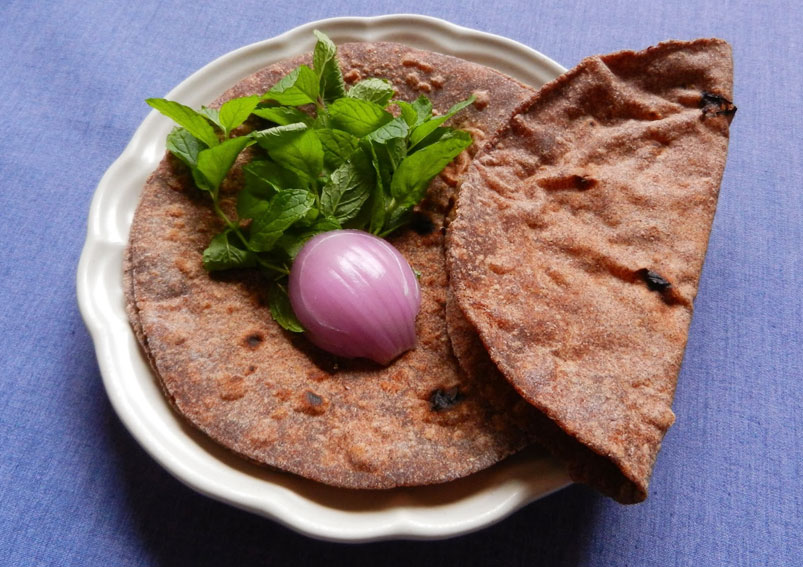 Ragi Roti is a staple food of South India, especially Karnataka. It is a healthy and nutritious replacement to the regular roti. A high fiber and calcium rich roti which keeps you full for a longer time. Let's follow this healthy recipe.
Ingredients
1/2 cupragi (nachni / red millet) flour
1/4 cupfinely chopped spring onions whites and greens
1/4 cupgrated carrot
1 1/2 tbspow-fat curd (dahi)
1/2 tspgreen chili paste
saltto taste
ragi(nachni / red millet) flour for rolling
Directions
In a bowl add ragi, spring onion, grated carrot, curd, green carrot, and salt and
knead into a soft dough by using enough water.
Divide the dough into 4 equal portions and roll out a portion of the dough into a circle of 100 mm. (4") diameter by using a little ragi flour.
Place the roti on a non-stick tawa (griddle) fry it for few second and flip it and cook it on the other side for a few more seconds.
Lift the roti with a pair of flat tongs and roast over an open flame till brown spots appear on both the sides.
Serve this hot roti with vegetable raita.
Nutrient values per roti
Energy 52 cal
Protein 1.4 gm
Carbohydrates 11.3 gm
Invisible Fat 0.2 gm
Fiber 2.0 gm
Calcium 64.3 mg
Meghna Nath
This Recipe Rate :
(0) Reviews