Healthy Fruit Custard Recipe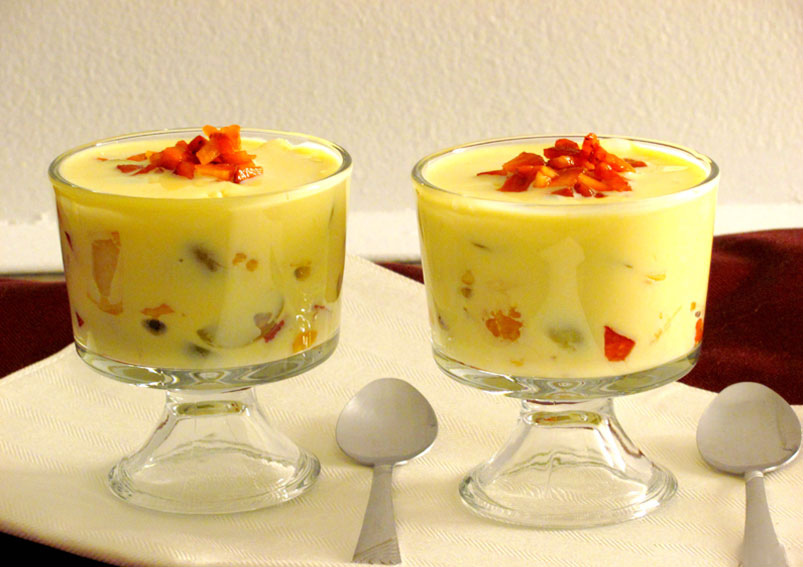 Source: www.foodcloud.in
Fruit Custard is a very healthy and yummy dessert. This custard is loaded with a lot of healthy fruits. Custard is always loved by all. This is perfect dessert option for any special occasion. Serve this fruit custard to your guest or serve it as a dessert after any meal.
Ingredients
For custard sauce
2 + 1/4- cupof milk
3 tablespoonsSugar, adjustable
2-1/2 tablespoonsCustard powder, ( you can use any flavor)

Fruits and nuts

1Kiwi, peeled and chopped
5Strawberries, chopped
1Mango, peeled and chopped
3Apricots, chopped
1 tablespoonTutti frutti
10-12Cashew nuts, roughly chopped
10-12Almonds, soaked and chopped
Greenseedless Grapes, Few
Bananapeel and cut into small slices
Directions
In a bowl pour 1/4 cup milk and custard powder, mix it well and see that no lumps form and keep it aside.
Heat 2 cups of milk in a thick bottomed pan and boil it on a low flame and add sugar. Now slowly add the custard powder mixture and keep stirring constantly and cook till the custard gets thickened.
As it is done, remove from the flame and keep it aside to cool then refrigerate it for 2-1/2 hours.
Just before serving, add all the fruits and top it up with nuts and serve it chill.
Also, Read Quick Strawberry and Chocolate Sundae
Meghna Nath
This Recipe Rate :
(0) Reviews