Moong dal and Palak Pakora Recipe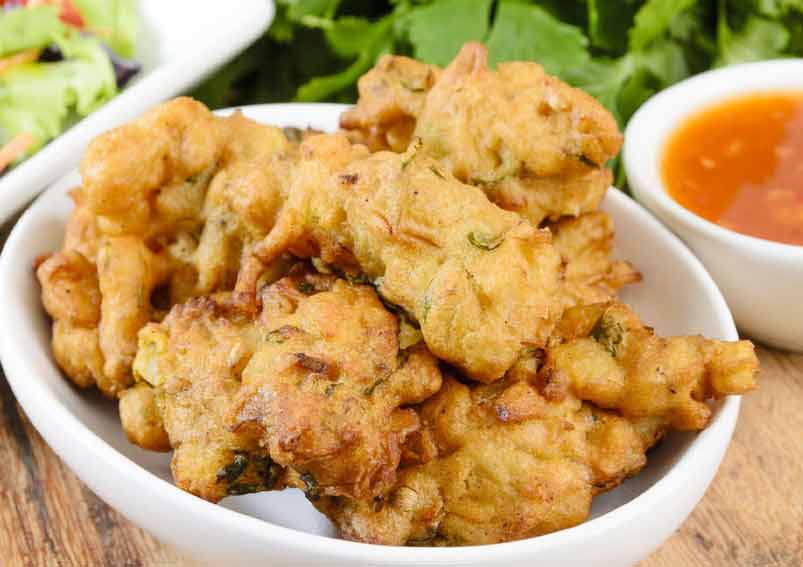 Moong dal and Palak Pakora is an authentic and easy snack recipe. Get your nutrients from the palak(spinach) and protein from the moong dal.This is a perfect evening snack with a hot cup of tea. Follow this recipe.
Ingredients
1 cupGreen Moong Dal (Split), soaked for 2 hours
1 cupSpinach, tightly packed and finely chopped
1Onion, finely chopped
1Green Chili, finely chopped
1 teaspoonCarom seeds (Ajwain)
1 tablespoonCoriander seeds, roughly pounded
1/2 teaspoonRed chili powder
1/2 teaspoonGaram masala powder
1/4 teaspoonTurmeric powder (Haldi)
1/2 teaspoonCumin powder
1 teaspoonLemon juice
Saltto taste
for fryingCooking oil
Directions
Wash and soak the moong dal for 2 hours and then blend it to a semi-course paste and pour it into the bowl.
Whisk the blended moong dal paste vigorously for a few minutes to incorporate air into the dal mixture to make the batter a little lighter.
Add in the chopped spinach, onion and green chili, carom seeds, coriander seeds, red chili powder, garam masala powder, turmeric powder, cumin powder, and salt and mix it well.
Heat oil in a pan and once it is hot drop a spoon full of batter into the oil to form small pakora and cook for 2 minutes on low flame and cook until it is brown in color and crisp.
Once the pakoras are done, drain it into a kitchen absorbent paper.
Serve this hot pakora with a hot cup tea and enjoy the wonderful evening.
Meghna Nath
This Recipe Rate :
(0) Reviews