Spicy Aloo Capsicum Recipe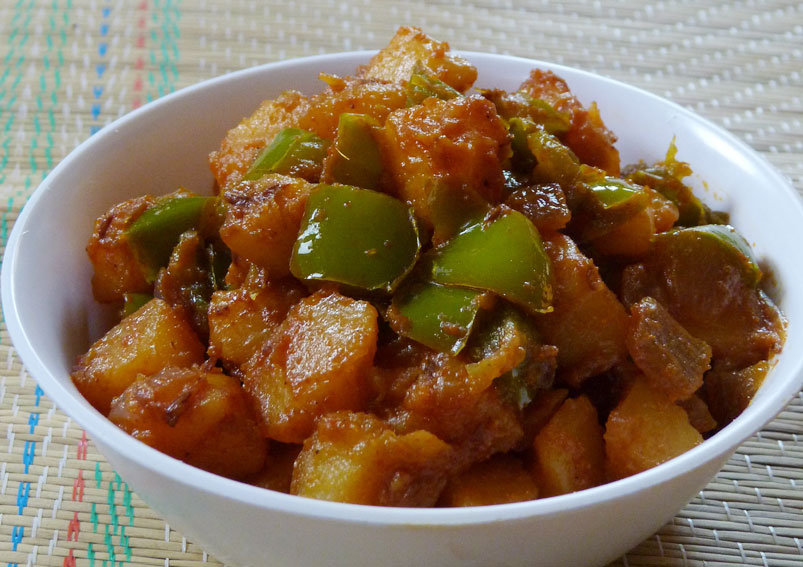 Source: pinterest.com
Spicy Aloo Capsicum is a popular and delicious Indian side dish recipe. It is quick, easy to make, and you can relish for lunch or dinner. You can enjoy this either with paratha or just like that. Let's follow this recipe.
Ingredients
4capsicum, cut into long thick strips
2sliced potatoes
2chopped onions
3Silt green chilies
1 tspcumin seeds (jeera)
1 tspfenugreek (methi) seeds
1 tspfennel seeds (saunf)
1 tspturmeric powder (haldi)
1 tspchili powder
1 tspcoriander (dhania) powder
1 tspcumin seeds (jeera) powder
1/2 tspasafoetida (hing)
1 tspgaram masala
saltto taste
2 tspoil for cooking
oil forfor deep frying
1 tspsoya sauce
Directions
Heat oil for deep frying in a deep pan or wok, add the potatoes and deep fry them till they are golden brown in color and drain on an absorbent paper and keep it aside for later use.
Heat oil in a non-stick pan or wok and add cumin seeds, mustard seeds, and fennel seeds and let it crackle.
Add 1/2 tsp of hing, fenugreek seeds and fry for 1 minute and add onions and fry till the onions are light golden brown.
Add the green chilies, turmeric powder, chili powder, cumin seeds powder, coriander powder and garam masala and fry for 4 to 5 minutes.
Add capsicum and fry for 3 to 4 minutes or until the masala gets mixed completely.
Add the fried potatoes and toss well and sprinkle the soya sauce and salt and stir it well.
Cover the pan with a lid and cook for 3 to 4 minutes and serve it hot with paratha.
Meghna Nath
This Recipe Rate :
(0) Reviews