Dry/Shuki Kachori Recipe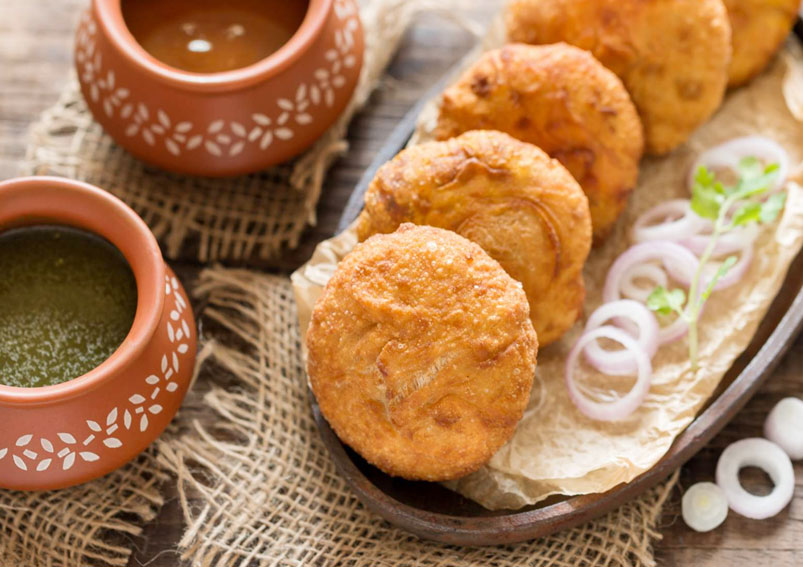 Shuki Kachori is a deep fried crispy and crunchy balls. Unlike normal kachori, this can be stored for few weeks and you can enjoy its taste anytime in the day. This snack is yummy and tasty. Let's follow this recipe.
Ingredients
To Be Ground To A Powder
2 tbspfried sesame seeds (til)
10-12fried groundnuts
2 tbspgrated dry coconut (kopra)
1/2 tspcinnamon (dalchini)
2 tspsugar
1/2 tspcitric acid (nimbu ka phool)
2 tspchili powder
1 tspgaram masala
1/4 tspturmeric powder (haldi)
1 tbsproasted fennel seeds (saunf)
Saltto taste

For The Dough

1bowl plain flour (maida)
4 tbspoil
pinchcitric acid (nimbu ka phool)
pinchbaking soda
saltto taste

Other Ingredients

10-12raisins (kismis)
1 tbspkhajur imli ki chutney
plainflour (maida) for rolling
oilfor deep frying

For khajur imli ki chutney

2 cupsdates (khajur), deseeded
1/4 cuptamarind (imli), deseeded
1 cupgrated jaggery (gur)
1 tspchili powder
a pinchof asafoetida (hing)
saltto taste
Directions
For the dough
In a bowl add flour, citric acid, baking powder, and salt and knead it into a thick dough by using water.
Divide the dough into equal portions and roll into small balls and keep it aside.
For khajur imli ki chutney
Wash the dates and tamarind and place them in a saucepan and add the jaggery, chili powder, asafoetida, salt and 4 cups of water and cook for 20 to 25 minutes on a low flame.
Cool and strain the mixture through a sieve and keep it aside later use.
How to proceed
In a blender add sesame seeds, groundnuts, dry coconut, cinnamon, sugar, turmeric powder, fennel seed, chili powder, critic acid, salt, and garam masala and blend into a smooth powder.
In a bowl add blended powder, raisins and khajur imli chutney in a deep bowl and mix it well.
Divide the mixture into equal portions and roll into small balls and keep it aside and roll the each portion of the dough to a puri using plain flour for rolling, place a portion of the prepared mixture in each puri and cover from all the sides and roll to form a ball.
Deep fry these balls in hot oil on medium flame till it turns to brown in color.
Serve it hot with imli chutney.
Also, Read Nacho Chips Recipe
Meghna Nath
This Recipe Rate :
(0) Reviews