Vegetable Pinwheel Samosa Recipe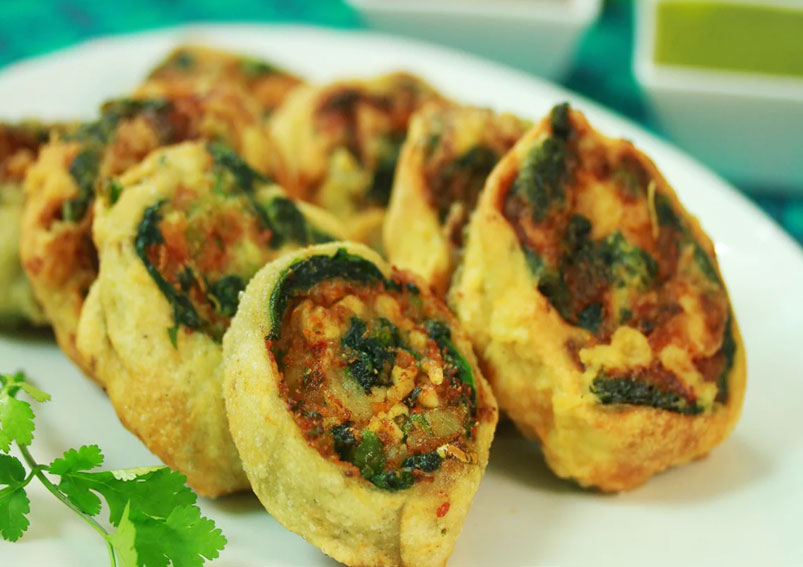 Source: sooperchef.pk
Vegetable Pinwheel Samosa is a mouth watering delicacy and is an ideal dish for any occasion. This is an interesting twist to the popular Indian snack samosa. It is a mouthwatering appetizer which you can easily prepare at your home. It tastes best when it is served hot with any sauce of your choice.
Ingredients
For The Dough
2 cupsAll-purpose flour/maida
1 tablespoonGhee
1 cupWarm water
saltas per taste
½ tspCarom seeds

For The Vegetable Filling

1 1/2 cupsboiled and mashed potatoes
1/2 cupboiled and mashed green peas
1/2 tspcumin seeds (jeera) powder
1 tspchili powder
1/4 tspturmeric powder (haldi)
1/2dried mango powder (amchur)
1 1/2coriander (dhania) powder
1/2 tspgaram masala
2 tbspfinely chopped coriander (dhania)
saltto taste
Directions
For the filling
In a bowl, add potatoes, green pea, cumin powder, chili powder, turmeric powder, mango powder, coriander powder, garam masala, chopped coriander and salt and mix it nicely.
For the dough
In a bowl, add plain flour, ghee, carom seeds, salt and also add enough water and knead it into a soft dough .
Cover It with a damp cloth and keep it aside for 15 minutes.
How to proceed
Divide the dough into 3 equal portions and roll a portion of the dough into a 225 mm. (9") diameter circle and dust a little plain flour.
Spread ½ cup of the prepared stuffing evenly over it and leave ½ inch from the circumference of the circle.
Roll it from one end to another end and seal it nicely and cut the roll into 9 equal pieces by using a sharp knife.
Take each piece and press it very lightly to flatten it.
Heat oil in a deep non-stick pan, dip each pinwheels in the prepared plain flour-water mixture and deep-fry, a few at a time on a medium flame till they turn golden brown in color from all the sides.
Drain in a plate and serve it with green chutney.
Meghna Nath
This Recipe Rate :
(0) Reviews