Andhra Style Brinjal Curry Recipe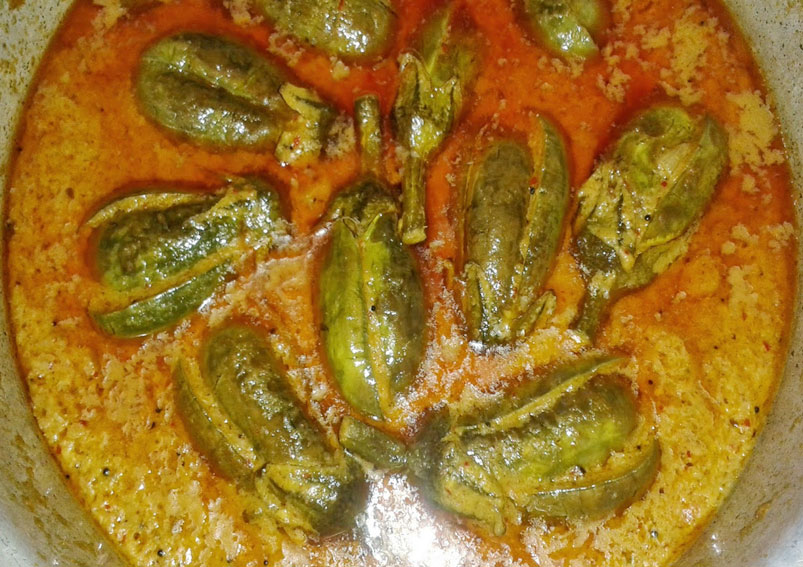 Source: momsrecipeshandbook.com
Andhra Style Brinjal Curry is a flavorful, spicy vegetarian dish of Andhra cuisine. It is very spicy and tasty curry and also has a rich texture. The addition of various spices, gives this dish a nice rich aroma and also taste. This is perfect when you have a sudden guest at your home. It is also great for a weekend dinner. You should definitely try this recipe at home.
Ingredients
200 gmcubed

eggplant/ brinjal

1onion
1 tablespoonrefined oil
1 dashmustard seeds
1/2 teaspoonground garlic
1/2 teaspoonground poppy seeds
1clove
1/2 tablespoonpowdered jaggery
1/2 teaspoonred chili powder
1 pinchpowdered turmeric
1/4 cuptamarind extract
1/2 cupgrated coconut
1/2 teaspoonmoong dal
1/8 teaspoonasafoetida
1/2 teaspooncoriander powder
1/2 inchcinnamon stick
1/2 teaspoonyoghurt (curd)
2 pinchessalt
1/2 teaspoonground sesame seeds
Directions
Heat oil in a pan, add moong dal, mustard seeds, asafoetida and onions and fry it for 5 min.
Add ground garlic and fry it for 2 min and then add coriander powder and brinjals and cover it with a lid and cook it for 6 min
Then add poppy seeds, cinnamon and cloves and mix it nicely.
Then add curd, jaggery, salt, sesame seeds, turmeric powder, coconut, chili powder and cook for a few minutes.
Then add tamarind pulp and cook it for 5 to 7 min and switch off the flame.
Transfer it on a serving bowl and garnish it with coriander leaves and serve it with steamed rice.
Meghna Nath
This Recipe Rate :
(0) Reviews