Tasty Til Ladoo Recipe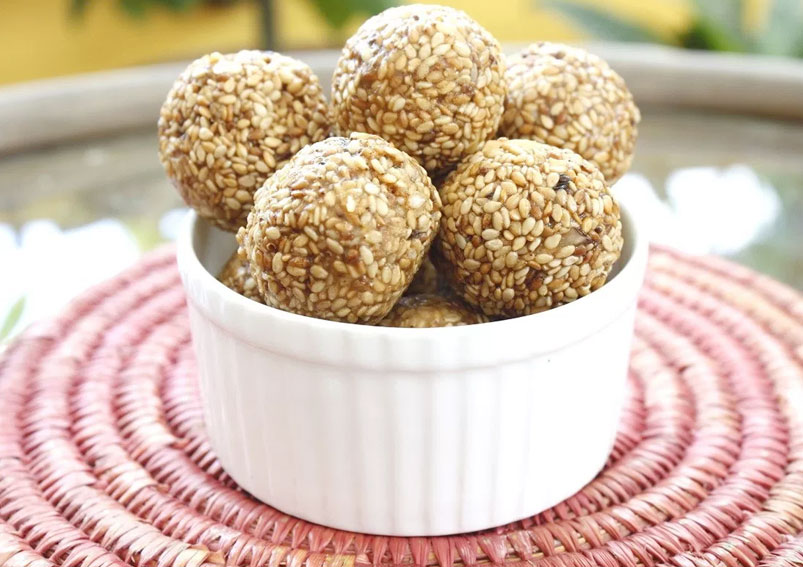 Source: myhealthydesserts.com
Til Ladoo is a popular Maharashtrian sweet dish which is generally prepared during Sankranthi. The ladoo is prepared with roasted sesame seeds, jaggery, peanuts. The addition of jaggery gives a nice distinct flavor and taste to this ladoo. You can munch this tiny sweet snack any time in the day. Try this ladoo this Sankranthi.
Ingredients
1 1/4 cupssesame seeds (til)
1 tbspghee
1 1/4 cupsroughly chopped sticky jaggery (gur) (chikki gur)
1/4 cuproasted and crushed peanuts
1/2 tspcardamom (elaichi) powder
Directions
Heat a broad non-stick pan, add the sesame seeds and dry roast on a low flame for 8 minutes and stir continuously and switch off the flame and keep it aside.
Heat ghee in a deep non-stick pan, add the jaggery, mix it nicely and cook on a low flame for 4 minutes and stir continuously
Add the roasted sesame seeds, peanuts and cardamom powder, mix it nicely and cook on a low flame for 1minutes and stir continuously
Transfer the mixture into a greased plate and allow it cool slightly for 1 to 2 minutes.
Wet your palms with little water, take a small portion of the mixture and shape into a small round ball and store it in an airtight container and enjoy it whenever you want to.
Nutrient values per serving
Energy 62 cal
Carbohydrates 7.5 g
Fiber 1 g
Fat 3.1 g
Cholesterol 0 mg
Vitamin A 7.3 mg
Vitamin B1 0.1 mg
Vitamin B2 0 mg
Vitamin B3 0.4 mg
Vitamin C 0 mg
Calcium 78.5 mg
Iron 0.7 mg
Folic Acid 0.2 mg
Sodium 0 mg
Pottasium 0 mg
Zinc 0.7 mg
Meghna Nath
This Recipe Rate :
(0) Reviews