Tasty Shakkarpara Recipe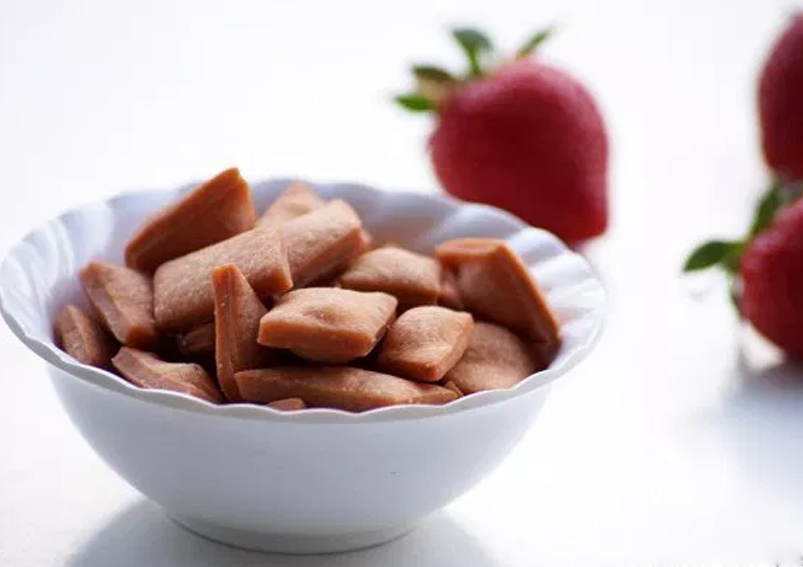 Source: www.blendwithspices.com
Shakkarpara is a popular North Indian sweet snack that is usually made during festivities. This crunchy, flaky deep-fried snack is also a great tea time snack. This is one of those snacks that you can munch anytime in the day. It is crunchy, crispy, and tasty and mildly sweet. This snack is very easy to prepare at your home.
Ingredients
1/4 cupsugar
1/4 cupmilk
2 tbspghee
1 1/2 cupswhole wheat flour (gehun ka atta)
a pinchof salt
gheefor deep-frying
Directions
In a deep, pan add the milk, sugar and ghee, mix it well and cook on a medium flame for 2 minutes or till the sugar dissolves and stir occasionally and keep it aside to cool.
Sieve the whole wheat flour and salt together in a deep bowl with the help of a strainer and slowly add the milk-sugar mixture, a little at a time and knead into a firm dough.
Divide the dough into equal portions and roll out a portion into 175mm. (7") diameter circle.
Cut it into 25 mm. (1") diamond shaped pieces and prick each diamond with a fork.
Heat the ghee in a deep non-stick kadhai and deep-fry the Shakkarpara, a few at a time on a low flame till they are golden brown in color from both the sides.
Drain on an absorbent paper and once it is cooled, store in an airtight container and enjoy whenever you want to.
Nutrient values per cup
Energy 592 cal
Protein 8.7 g
Carbohydrates 64.3 g
Fiber 1.2 g
Fat 32.8 g
Cholesterol 0 mg
Vitamin A 324.4 mg
Vitamin B1 0.3 mg
Vitamin B2 0.1 mg
Vitamin B3 2.8 mg
Vitamin C 0.2 mg
Folic Acid 24.3 mg
Calcium 73.1 mg
Iron 3.2 mg
Magnesium 0 mg
Phosphorus 0 mg
Sodium 16.8 mg
Potassium 222.1 mg
Zinc 1.4 mg
Meghna Nath
This Recipe Rate :
(0) Reviews