Creamy Strawberry Mousse Recipe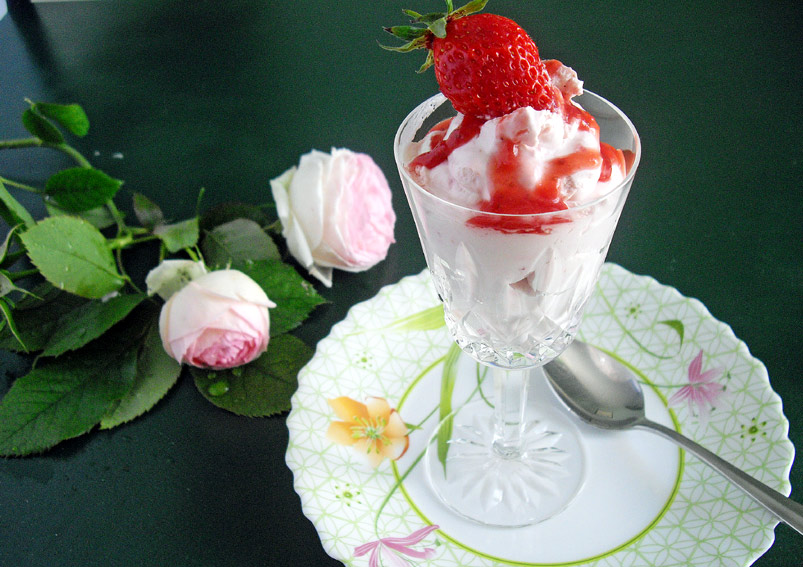 Source: cookinginsens.wordpress.com
A creamy Strawberry delight Strawberry Mousse is a mouth-watering dessert made with strawberry, whipped cream and milk. This mousse is a melt-in-the-mouth dessert e that you can try on any special occasions. This creamy and fluffy dessert recipe is sure to be loved all.
Ingredients
1/4 cupChopped fresh strawberries
1 tspSugar
1/2 cupFresh crumbled paneer (cottage cheese)
1/2 cupMilk
2 tbspStrawberry crush ( easily available at the market)
1 tbspPowdered sugar
2 tbspPowdered agar-agar (china grass) , refer handy tip
3/4 tspLemon juice
1 cupBeaten whipped cream
For The Garnish
2 tbspChopped Strawberries
Directions
In a bowl, add the strawberries and sugar and mash it gently using the back of a spoon and keep it aside.
In a blender add the paneer, 1 tbsp of milk, strawberry crush and powdered sugar and blend it to a smooth mixture and keep it aside.
In a deep non-stick pan add the agar-agar, remaining milk and ¼ cup water and cook on a low flame and stir continuously.
Switch off the flame and strain the mixture using a sieve and transfer the mixture into a deep bowl and place the bowl in a deep vessel filled with ice-cubes.
Whisk the agar-agar-milk mixture continuously for 8 to 10 minutes or till the mixture cools and thickens and till no lumps remain.
Add the paneer-strawberry mixture, mashed strawberries and lemon juice and mix it well.
Add the whipped cream and fold it gently and pour equal portions of the mixture individual glasses and keep it in the refrigerator for 2 to 3 hours or till the mousse sets.
Garnish with strawberries and serve it chill.
Tips
Approx. 3 gm of agar-agar gives 2 tbsp of powdered agar-agar.
By Meghna Nath
This Recipe Rate :
(0) Reviews