Healthy Black Bean Dal Recipe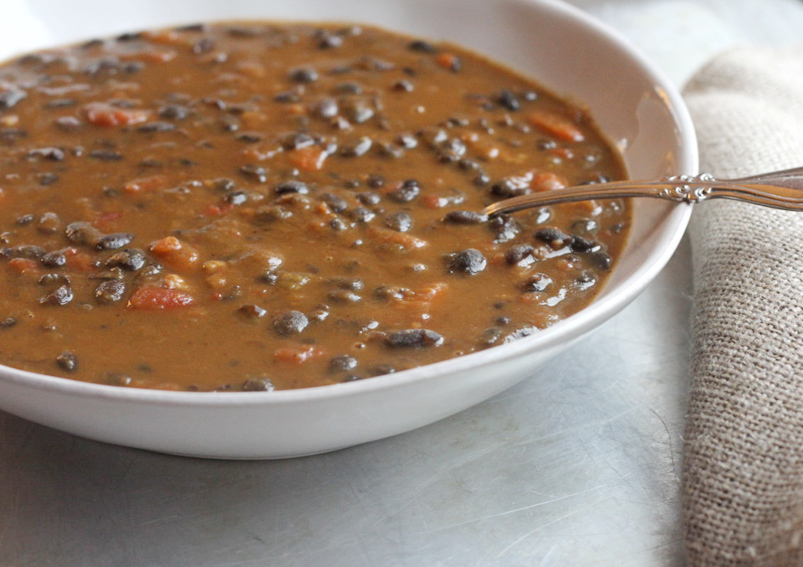 Source: www.ayearatthetable.com
Black Bean Dal is a flavorful and creamy, staple dal of North India. This dish is made with black bean dal and seasoned with various spices. It has a thick texture, tempting taste, and also has a mouth-watering flavor. It is a wholesome, nutritious, and delicious dal dish which will go prefect with any Indian meal.
Ingredients
1 cupblack beans , soaked overnight and drained
saltto taste
a pinchof soda bi-carbonate
1 tbspoil
1 tspcumin seeds (jeera)
1 tspfinely chopped garlic (lehsun)
1 tspfinely chopped ginger (adrak)
1/2 tspfinely chopped green chilies
1/2 cupfinely chopped onions
1 cupchopped tomatoes
saltto taste
1 tspchili powder
1/4 tspturmeric powder (haldi)
2 tspcoriander-cumin seeds (dhania-jeera) powder
1/4 cupfinely chopped coriander (dhania)
1 tbspfresh cream
For The Garnish
a sprigof coriander (dhania)
Directions
In a pressure cooker add the black beans, salt, soda bi-carbonate, and 2 cups of water and cook for 25 min.
Allow the steam to escape before opening the lid and do not drain the water and keep aside water later use.
Heat the oil in a deep non-stick kadhai and add the cumin seeds and when the seeds crackle, add the garlic, ginger and green chilies and fry on a medium flame for 30 seconds.
Add the onions and fry on a medium flame for 1 minute and then add the tomatoes, salt, chili powder, turmeric powder, coriander-cumin seeds powder and 1 tbsp of water, mix well and cook on a medium flame for 2 minutes, while stirring occasionally.
Add the cooked dal (including the water), mix it well and cook on a medium flame for 2 to 3 minutes and stir occasionally.
Add the coriander leaves and fresh cream, mix it well and cook on a medium flame for 2 minutes and stir occasionally.
Garnish with a sprig of coriander and serve it hot with methi paratha.
Meghna Nath
This Recipe Rate :
(0) Reviews