Chocolate Avocado Mousse Recipe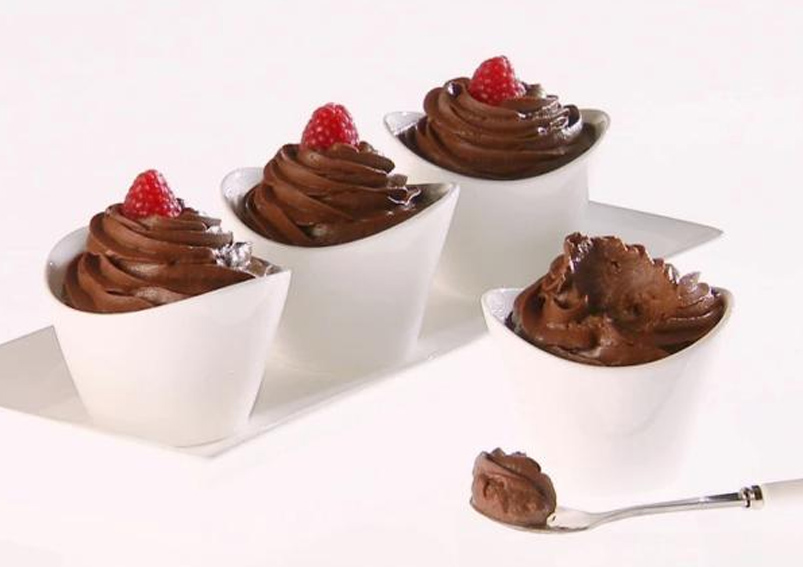 Source: www.foodnetwork.com
Chocolate Avocado Mousse is one such delightful dessert that is prefect for any occasion. This mousse is made with whipped cream, chocolate, avocado. This mousse has the goodness of avocado and chocolate. It is a kids favorite dessert recipe and is soft, creamy and melt-in-the mouth. It is prefect dessert that can be served after any meal.
Ingredients
1 cuproughly chopped dark chocolate
3/4 cuproughly chopped ripe avocado
For The Garnish
whitechocolate curls as needed ( easily available at the market)
Directions
In a blender, add avocado and blend it till smooth and keep it aside.
In a microwave safe bowl, add the dark chocolate and microwave on high power for 1 minute and remove it from the oven and mix it well.
Add the avocado mixture and ¼ cup of melted chocolate and mix it nicely with a spatula.
Add the remaining chocolate and mix it very with a spatula and pour equal quantities of the mixture into serving bowls / glasses and keep it in the refrigerator for 1 hour or till the mousse sets.
Once the mousse is set and remove from the refrigerator and garnish with chocolate curls and serve it chill.
Nutrient values per serving
Energy 492 cal
Protein 8.8 g
Carbohydrates 24.1 g
Fiber 0 g
Fat 52.4 g
Cholesterol 0 mg
Vitamin A 13.5 mg
Vitamin B1 0.2 mg
Vitamin B2 0.1 mg
Vitamin B3 2 mg
Vitamin C 0 mg
Folic Acid 6.9 mg
Calcium 66.3 mg
Iron 5.7 mg
Magnesium 0 mg
Phosphorus 0 mg
Sodium 2.6 mg
Potassium 647.2 mg
Zinc 0 mg
Meghna Nath
This Recipe Rate :
(0) Reviews