Mango Cheese Pie Recipe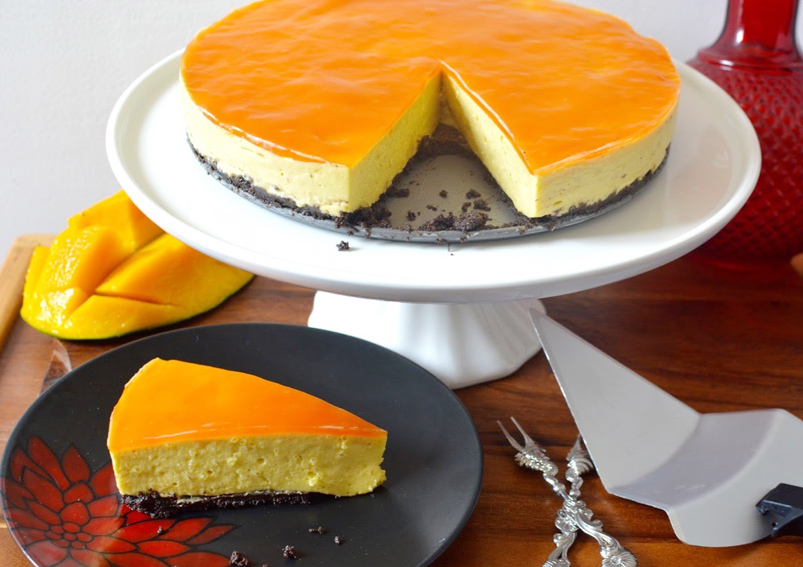 Source: www.recipeler.com
Mango Cheese Pie is a creamy, delicate dish that is perfect for any parties and special occasions. This dish is made with delectable fresh mangoes with crumbly cheese. The base of this pie has a perfect crunch and also has a luscious filling inside. This is a prefect dish that can be served as a dessert after any meal.
Ingredients
For The Crust
20digestive biscuits
15-20roughly chopped walnuts (akhrot)
6 tbspmelted butter
Other Ingredients
2 cupscrumbled paneer (cottage cheese)
3/4 cuppowdered sugar
2 tbspcream cheese ( easily available at the market)
1 tspvanilla essence
1/2 cupchopped mangoes
1 cupbeaten whipped cream
For The Garnish
1/2 cupfresh mango pulp
beatenwhipped cream as required
Directions
For the crust
Place the biscuits on a butter paper or rolling board and crush the biscuits to a coarse powder with the help of a rolling pin.
In a bowl add the crushed biscuit, walnuts and butter and mix it well and keep it aside and spread and press the mixture into the base of a 175 mm. (7") loose bottomed cake tin and keep it in the refrigerator for 30 minutes and keep it aside.
How to proceed
In a blender add paneer and sugar and blend till smooth and transfer the mixture into a deep bowl, add the cream cheese and mix it well with a hand blender and make a smooth mixture.
Add the vanilla essence and the mango and mix it gently and add the beaten whipped cream and fold it gently.
Spread the mixture evenly over the set biscuit base and refrigerate for 4 to 5 hours or till firm.
De-mold the pie carefully and cut into equal wedges and just before serving, pour the mango pulp on each wedge and spread it evenly with the help of a palate knife.
Garnish each wedge with a swirl of beaten whipped cream and serve it.
Meghna Nath
This Recipe Rate :
(0) Reviews