Easy Jowar and Vegetable Paratha Recipe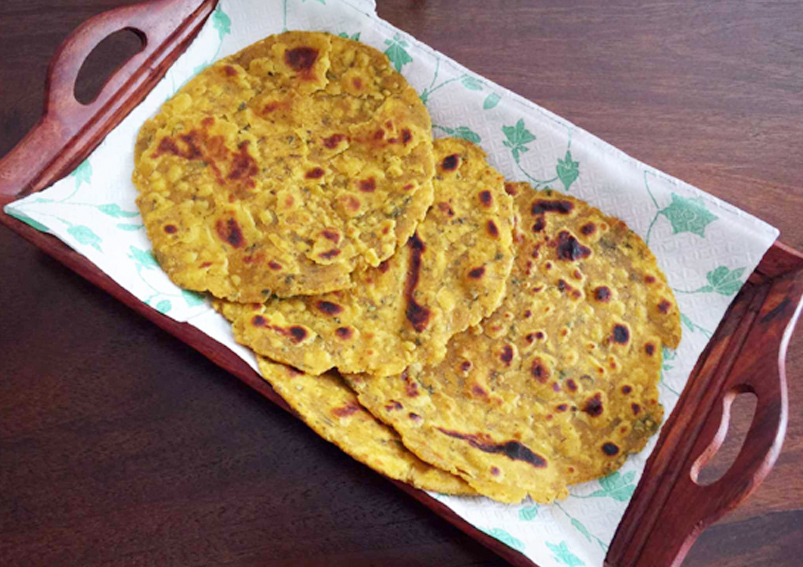 Source: www.archanaskitchen.com
Jowar and Vegetable Paratha is a healthy Indian flat bread that has the goodness of various vegetables and jowar (white millet). It has a nice crunchy taste, tempting flavor, and a nice aroma. This paratha is a prefect wholesome breakfast and a very healthy dish for kid's and women. Let's follow this healthy and easy paratha recipe.
Ingredients
1/4 cupjowar (white millet) flour
3/4 cupwhole wheat flour (gehun ka atta)
1/4 cupgrated carrot
1/4 cupshredded spinach (palak)
1/4 cupturmeric powder (haldi)
1/2 tspchili powder
1/2 tsproasted cumin seeds (jeera)
1 tspoil
saltto taste
wholewheat flour (gehun ka atta) for rolling
oilfor cooking
Directions
In a bowl, add jowar flour, wheat flour, grated carrot, spinach, turmeric powder, chili powder, cumin powder, oil, salt and enough water and knead into a soft dough.
Divide the dough into equal portions and roll a portion of the dough into a 125 mm. (5") diameter circle by using a little whole wheat flour.
Heat a non-stick tawa (griddle) and cook it on a medium flame and by using a little oil cook till golden brown spots appear on both the sides of the paratha.
Once done, transfer it on a serving plate and serve it with any pickle of your choice.
Nutrient values per paratha
Energy 62 cal
Protein 1.1 g
Carbohydrates 6.4 g
Fiber 0.4 g
Fat 3.6 g
Cholesterol 0 mg
Vitamin A 138 mg
Vitamin B1 0 mg
Vitamin B2 0 mg
Vitamin B3 0.4 mg
Vitamin C 0.4 mg
Folic Acid 4.6 mg
Calcium 6.1 mg
Iron 0.4 mg
Magnesium 0 mg
Phosphorus 0 mg
Sodium 2.9 mg
Potassium 28.4 mg
Zinc 0.2 mg
Meghna Nath
This Recipe Rate :
(0) Reviews