Yummy Hara bhara Kofta Recipe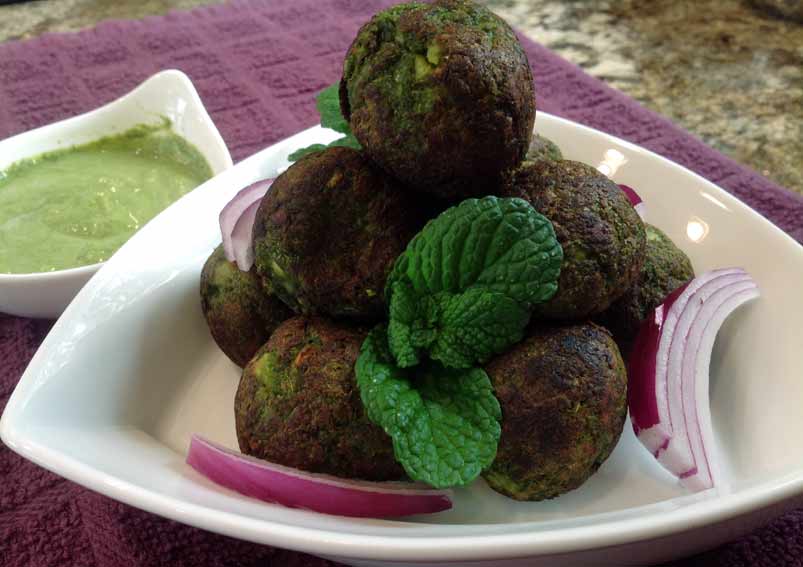 Source: www.rupalovescooking.com
Hara bhara Kofta is a popular starter snack dish of the restaurants. This spicy, delicious snack is deep fried made with various veggies and flavored with various seasoning. This snack is crispy from outside and soft and yummy from inside. They make a perfect starters for parties and can also be served as a snack with a cup of tea. Let's follow this recipe.
Ingredients
1 cupboiled and mashed potatoes
1/2 cupfinely chopped french beans
1/2 cupfinely chopped carrot
1/2 cupchopped spinach (palak) leaves
2 tbspchopped coriander (dhania)
1 tbspchopped green chilies
1 tspfinely chopped ginger (adrak)
1/4 cupbread crumbs
1 1/2 tbspcornflour
1/2 tspgaram masala
2 tsplemon juice
saltto taste
oilfor deep-frying
Directions
In a bowl, add mashed potatoes, french beans, chopped carrots, chopped spinach, chopped coriander, green chilies, chopped ginger, bread crumbs, chopped ginger, garam masala, salt, lemon juice, and cornflour and mix it nicely.
Divide the mixture into equal portions and shape each potion into a round ball.
Heat the oil in a deep non-stick kadhai and deep-fry the koftas, a few at a time, till they turn golden brown in color from all the sides.
Drain on an absorbent paper and serve it hot with any sauce of your choice.
Nutrient values per
Energy 38 cal
Protein 0.3 g
Carbohydrates 3.5 g
Fiber 0.4 g
Fat 2.6 g
Cholesterol 0 mg
Vitamin A 116.6 mg
Vitamin B1 0 mg
Vitamin B2 0 mg
Vitamin B3 0.2 mg
Vitamin C 3.6 mg
Folic Acid 4.3 mg
Calcium 4.7 mg
Iron 0.1 mg
Magnesium 0 mg
Phosphorus 0 mg
Sodium 2.7 mg
Potassium 40.4 mg
Zinc 0.1 mg
Meghna Nath
This Recipe Rate :
(0) Reviews