Healthy Cabbage and Paneer Paratha Recipe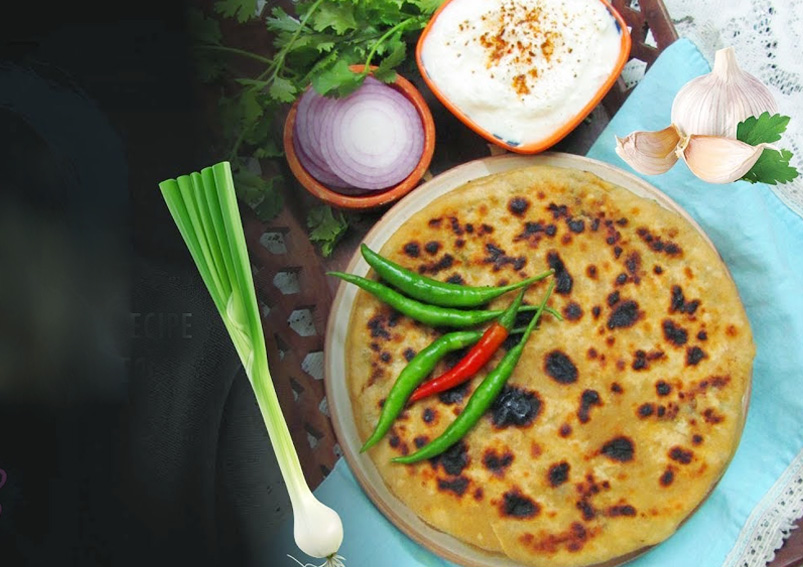 A delight breakfast recipe, Cabbage and Paneer Paratha is a filling, tasty, and wholesome. This paratha has an amazing taste, flavor, and texture. This is very easy to prepare with a just few ingredients within few minutes. You can relish this soft and tasty paratha for your morning breakfast with any side dish. Try this flavorful paratha at your home.
Ingredients
1 cupwhole wheat flour (gehun ka atta)
1 tbspmelted ghee
saltto taste
To Be Mixed Into A Stuffing
1-1/4 cupsgrated cabbage
1/2 cupcrumbled paneer (cottage cheese)
1 tspfinely chopped coriander (dhania)
1 1/2 tspfinely chopped green chilies
saltto taste
Other Ingredients
whole wheatflour (gehun ka atta) for rolling
oilfor cooking
Directions
For the dough
In a bowl, wheat flour, melted ghee, salt, and enough water and mix it well and knead into a soft dough.
Cover it with a muslin cloth and keep it aside for at least 10 to 15 minutes.
Divide the dough into equal portions and keep it aside.
How to Proceed
Divide the stuffing into equal portions and roll out a portion of the dough into a 175 mm. (7") diameter roti with help of a little whole wheat flour.
Spread a portion of the stuffing evenly over it and cover it with another roti and press the sides well.
Heat a non-stick tawa (griddle) and cook the paratha by using a little oil and cook till golden brown spots appear on both the sides.
Serve it hot with any raita of your choice.
Nutrient values per paratha
Energy 192 cal
Protein 5.1 g
Carbohydrates 17.2 g
Fiber 1 g
Fat 11.5 g
Cholesterol 0 mg
Vitamin A 237.8 mg
Vitamin B1 0 mg
Vitamin B2 -0.1 mg
Vitamin B3 0.9 mg
Vitamin C 27.4 mg
Folic Acid 12.4 mg
Calcium 93.5 mg
Iron 1.2 mg
Magnesium 0 mg
Phosphorus 0 mg
Sodium 5 mg
Potassium 71.1 mg
Zinc 0.5 mg
Meghna Nath
This Recipe Rate :
(0) Reviews