Easy Beetroot Chutney Recipe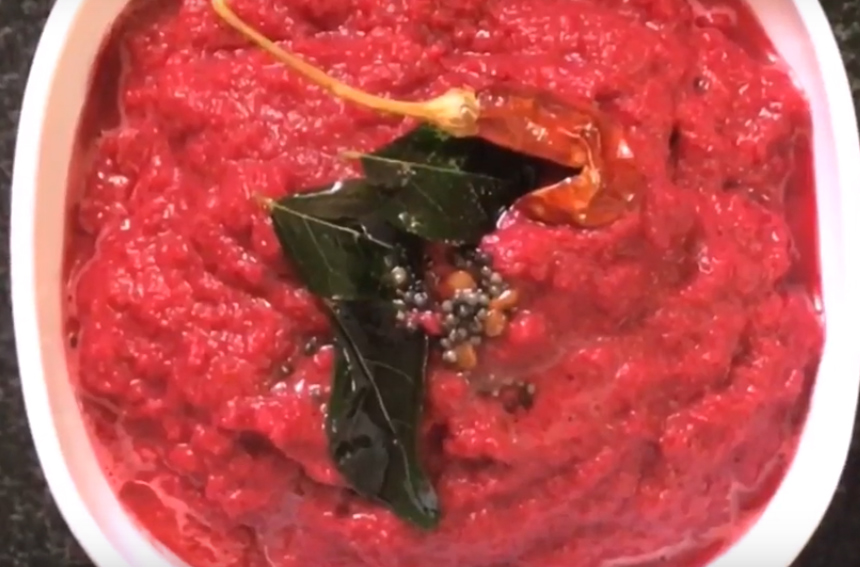 Source: youtube.com
Beetroot Chutney is a healthy and tasty chutney recipe. This chutney is very easy to prepare at home with very few ingredients within few minutes. This chutney has a nicely color and also has an amazing flavor and taste. It is a perfect side dish with any meal. Try this recipe at your home.
Ingredients
1/2 cup gratedgrated beetroot
1 tbspoil
1/4 tspurad dal (split black lentils)
3 wholedry Kashmiri red chillies
4 to 5 currycurry leaves (kadi patta)
1/4 cupgrated coconut
saltto taste
For The Tempering
1 tspoil
1/4 tspmustard seeds ( rai/sarson)
Directions
Heat the oil in a broad, non-stick pan, add the urad dal, red chillies and curry leaves and fry on a medium flame for a few seconds.
Add the grated beetroot, coconut and salt and fry on a medium flame for 4 to 5 minutes.
Switch off the flame and allow the mixture to cool completely and once cooled, blend to a smooth paste by using 2 tablespoons of water.
Transfer the chutney into a bowl and keep it aside. For the tempering
Heat the oil in a small pan and add the mustard seeds and when the seeds crackle, switch off the flame.
Pour the tempering over chutney and serve it with any meal.
Tip
This chutney stays fresh for 2 days in an air-tight container in the refrigerator. Beetroot is a rich source of potassium, phosphorus, chlorine, iodine, iron and vitamins
Nutrition Info
Energy: 616 cal
Protein: 3.8 g
Carbohydrates: 13.3 g
Fiber: 9.3
Fat: 60.9 g
Cholestero: 0 mg
Vitamin A: 360.8 mg
Vitamin B1: 0.1 mg
Vitamin B2: 0.1 mg
Vitamin B3: 0.7 mg
Vitamin C: 6.9 mg
Folic Acid: 8.9 mg
Calcium: 19.8 mg
Iron: 1.7 mg

Phosphorus: 43.5 mg
Sodium: 39.1 mg
Potassium: 43.5 mg
Zinc: 0.6 mg
This Recipe Rate :
(0) Reviews