Oats and Walnuts Chikki Recipe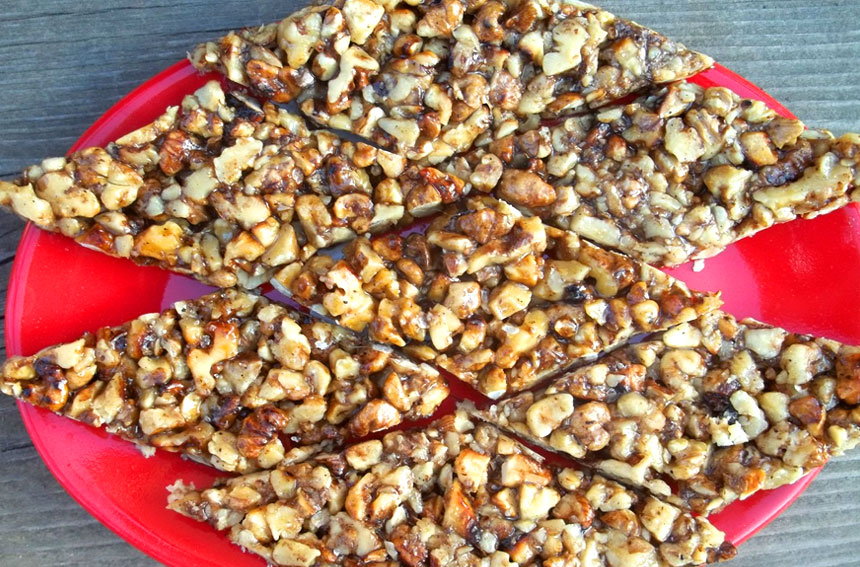 Source: wikimedia.org
Oats and Walnuts Chikki are a healthy version of Peanut chikki. This wholesome snack that is made from the goodness of oats and walnuts. These chikkis are very nutritious because of the combination of oats, walnuts and jaggery, both are good sources of protein, vitamin, minerals. This chikki can be stored in airtight container and is a perfect energy booster that you can have any time in the day.
Ingredients
1 cupquick cooking rolled oats
1/4 cupchopped walnuts (akhrot)
1/2 cuproughly chopped jaggery (gur)
1 tspghee
Directions
Heat a broad non-stick pan, add the oats and dry roast on a medium flame for 4 minutes and once done, switch off the flame and keep it aside.
In a pan, add the ghee, add the chopped jaggery and mix it well and cook it on a low flame for 3 minutes and stir continuously.
Once done, switch off the flame and add the roasted oats and walnuts and mix it very well.
Grease a plate/thali with ghee and transfer the mixture immediately on the back side of a greased thali and roll the mixture into a 100 mm. (4") x 150 mm. (6") rectangle by using a greased rolling pin.
Cut into 12 equal square pieces of 13 mm. (½") x 13 mm. (½") by using a sharp knife and allow it to cool completely.
Serve it or store in an airtight container and use as required.
Tips:
This chikki stays fresh for 3 to 4 days when stored in an airtight box at room temperature.
Nutrition Info
Energy: 64 k cal
Protein: 1.3 gm
Carbohydrates: 10.1 gm
Invisible Fat: 2.1 gm
Iron: 0.5 gm
This Recipe Rate :
(0) Reviews