Healthy Baked Ribbon Sev Recipe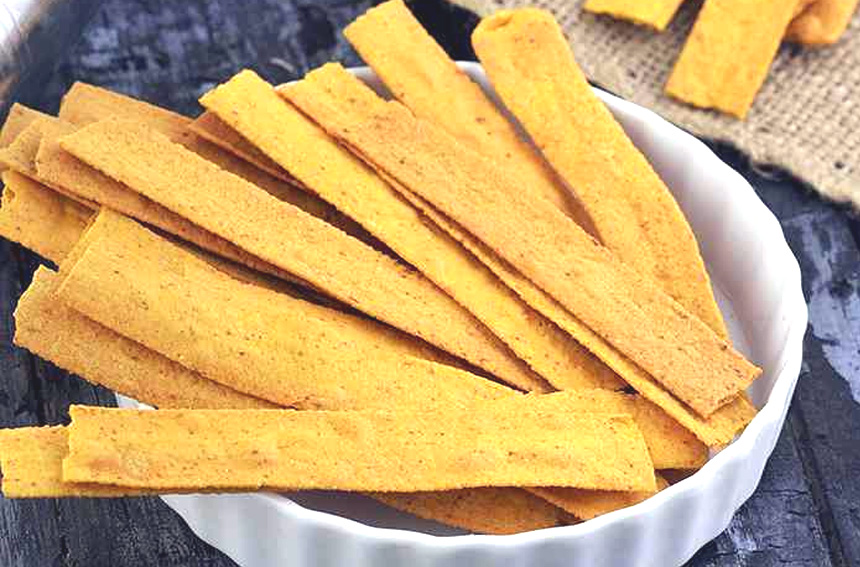 Source: https://www.tarladalal.com
Ribbon Sev is a popular South Indian snack that you can very easily prepare at your home. This snack is a healthy as it baked and also a healthy version of deep fried ribbon sev. This snack is a prefect evening snack with a cup of tea and you can also munch this snack anytime in the day. This snack dish perfect fish when your travailing and can also be packed in your kid's snack box.
Ingredients
1/2 cupbesan (gram flour)
1/4 cupwhole wheat flour (gehun ka atta)
1/4 tspturmeric powder (haldi)
1/2 tspchili powder
1/4 tspasafoetida (hing)
3/4 tbspwarm oil
saltto taste
Directions
In a bowl, add besan, wheat flour, turmeric powder, chili powder, hing, and warm oil, and salt and mix it nicely and knead into a soft dough by using enough water.
Grease the ribbon shaped (the one with vertical lines) press mold with 1/8 tsp oil, put a portion of the dough into it, press it and cover it with the lid.
Press out ribbons of the sev arranging them straight on a greased baking tray and bake in a preheated oven at 180ºc (360ºf) for 10 minutes.
Once done, remove from the oven and cool completely, transfer the sev into a deep bowl and break it in half by using your fingers.
Store in an airtight container and enjoy whenever you want to.
Nutrient values per serving
Energy: 124 cal
Protein: 5.1 g
Carbohydrates: 16.9 g
Fiber: 3.3 g
Fat: 4 g
Cholestero: 0 mg
Vitamin A: 53.2 mg
Vitamin B1: 0.1 mg
Vitamin B2: 0 mg
Vitamin B3: 0.8 mg
Vitamin C: 0.2 mg
Folic Acid: 32.7 mg
Calcium: 14.7 mg
Iron: 1.4 mg
Magnesium: 0 mg
Phosphorus: 0 mg
Sodium: 16.4 mg
Potassium: 168.9 mg
Zinc: 0.5 mg
This Recipe Rate :
(0) Reviews