Tasty and Tangy Aloo Tikki Chaat Recipe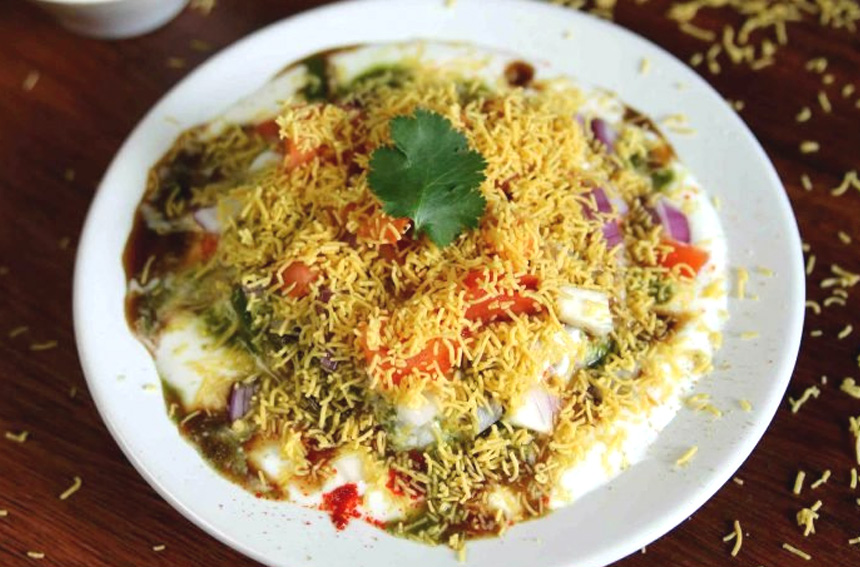 Source: https://hebbarskitchen.com
Aloo Tikki Chaat is a mouth- watering chaat dish with made with shallow fried aloo tikki, topped with sweet and tangy chutney. This chaat is a prefect appetizer dish in any parties or special occasion. This chaat is perfect when you want something spicy, tangy, sweet, and also tasty. It has a nice flavor, crunch, texture, and taste. You can serve this chaat as a snack with a cup of tea.
Ingredients
For The Aloo Tikki
2 1/2 cupsboiled, peeled and grated potatoes
1/2 cupfinely chopped coriander (dhania)
2 tspfinely chopped green chilies
2 tbspcornflour
Saltto taste
Oilfor deep-frying
Other Ingredients
1 cupCurd (dahi)
2 tspPowdered sugar
8 tspKhajur imli ki chutney
8 tspGreen chutney
1 tspCumin seeds (jeera) powder
1/2 tspof chaat masala
1/2 tspof black salt (sanchal)
4 tbspNylon sev
4 tspFinely chopped coriander (dhania)
4 tbspPomegranate (anar)
For The khajur imli ki Chutney
1 cupDeseeded dates (khajur)
1/2 cupjaggery (gur)
1/4 cupTamarind (imli)
2 tspCoriander (dhania) powder
1 tspChili powder
1/2 tspCumin seeds (jeera) powder
Saltto taste
For Green Chutney
1 1/2 cupsRoughly chopped coriander (dhania)
4Green chilies , roughly chopped
1 1/2 tspLemon juice
1 tbspSugar
4 tbspFreshly grated coconut
Saltto taste
Directions
For the aloo tikki
In a bowl, add grated potatoes, chopped coriander, chopped chilies, cornflour, salt and mix it nicely.
Divide the mixture into equal portions and roll and shape each portion into a 63 mm. (2½") round flat tikki.
Heat the oil in a broad non-stick pan and deep- fry 4 tikkis at a time and fry till they turn golden brown in color from all the sides.
Drain on an absorbent paper and keep it aside.
For The khajur imli ki Chutney
In a pressure cooker, add the dates, jaggery, tamarind and 1½ cups of water, mix it well and cook for 25 min.
Once done, switch off the flame and allow the steam to escape before opening the lid and blend the mixture along with ½ cup of water and strain it with a help of a strainer.
Add the coriander powder, chili powder, cumin seeds powder and salt and mix it well and keep it aside.
For Green Chutney
In a blender, add chopped coriander, green chilies, lemon juice, sugar, coconut, salt, a little water and blend to a smooth paste and keep it aside.
How to proceed
In a bowl, the curd and sugar, mix it well with a help of a whisk and keep it aside.
Just before serving, place 2 aloo tikkis on a serving plate and spread ¼ cup of curd-sugar mixture, 2 tsp of khajur imli ki chutney, and 2 tsp of green chutney evenly over it.
Sprinkle ¼ tsp of cumin seeds powder, 1/2 tsp of chaat masala and 1/2 of black salt evenly over it.
Finally sprinkle 1 tbsp of nylon sev, 1 tsp of coriander and 1 tbsp of pomegranate evenly over it and serve it and relish its flavor and taste.
This Recipe Rate :
(0) Reviews