Healthy Instant Oats Dosa Recipe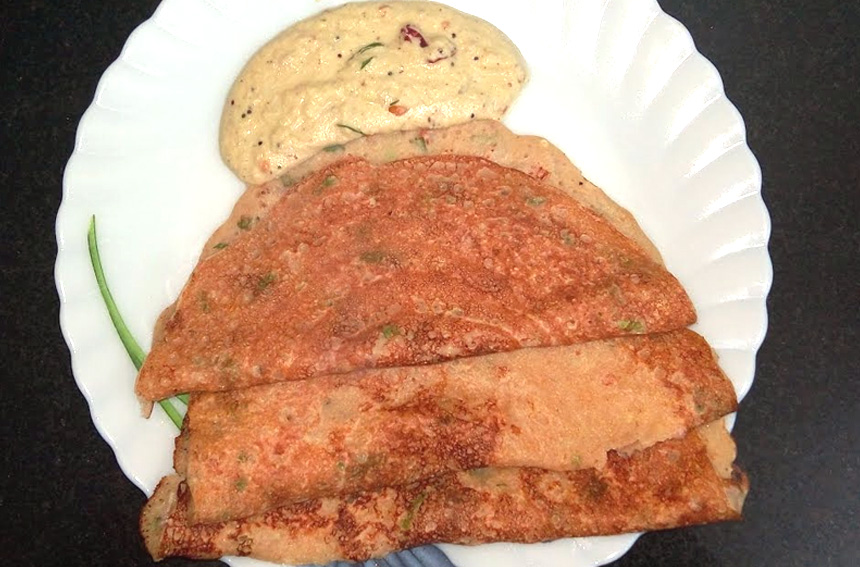 Source: https://www.youtube.com
Instant Oats Dosa is a super simple and a quick preparation of a savory crepe. The quick cooking oats are combined along with whole wheat flour and flavored with various spices. The result is an absolutely delicious and it is packed with flavor and nutrition. This is an ideal breakfast dish and can be also packed in your kid's lunch box. Follow this recipe.
Ingredients
1/2 cupQuick cooking rolled oats flour
2 tbspRice flour (chawal ka atta)
1/4 cupSemolina (rava / sooji)
1/2 cupFresh curds (dahi)
1/4 cupFinely chopped onions
1 1/2 tspFinely chopped green chillies
2 tbspFinely chopped coriander (dhania)
Saltand freshly ground black pepper (kalimirch) to taste
Oilfor cooking
Directions
In a bowl, add oats, rice flour, rava, chopped onion, green chilies, chopped coriander, freshly ground pepper and mix it nicely and 1 cup of water and mix it well.
PHeat a non-stick tawa (griddle), sprinkle a little water on it (it should sizzle immediately) and wipe off using a piece of cloth.
Pour a ladleful of the batter on the tawa (griddle), spread in a circular motion to make a 125 mm. (5") dosa and cook it by using oil till it turns golden brown in color from both the sides.
Serve it with coconut chutney and enjoy a hearty meal.
This Recipe Rate :
(0) Reviews